"Wake me up when September ends" might be the title of a song by Green Day but it has been more Groundhog Day, or should we make that Groundhog month for a number of cricketers. This is the month equivalent to the footballing transfer window, when players are released and find themselves new deals. September has become a cricketers agent's wet dream; the month for wheeling and dealing and getting your man a new contract. For others, it is the end of their career.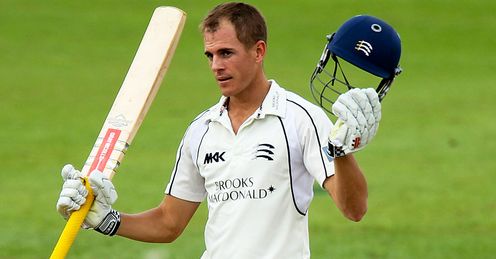 Dexter...it's a new deal

Cricket fans are becoming more like their footballing counterparts by the season. Instant success is demanded and players are chastised more not only directly but via social media. Alex Hales recently took to Twitter after Nottinghamshire fans turned on their team, despite them heading the Royal London table. The demand for trophies, silverware and success has never been more at a premium in the eyes of some fans, and today's players certainly have a tougher role than their counterparts of fifteen or twenty years ago in that respect.
Players are not hugely well paid, despite the influx of money into the counties by Sky Sports. I was shocked that one ex England player told me he was on £18,000 in the 1990's despite having a twenty year career in the sport. The average county salary is roughly £50,000 and that depends on who you play for. A senior pro at Surrey will receive far greater remuneration than an uncapped kid at Northamptonshire or Leicestershire for instance.
Quick bowlers so my sources tell me, are paid more presumably due to their career being shorter and there are less of them on the circuit. At the leading counties, some will be on £80,000 to £90,000 a year plus win bonuses. It is not a huge amount for a professional sportsman. In footballing terms it is the salary of a League One or Two player. Yes, it pays you a decent living but it isn't enough to retire on. In terms of what even a Championship footballer gets paid it is a drop in the ocean. Even Simon Jones who was an England hero in 2005, says in his recent book that he has faced financial struggle as a professional cricketer.
Alex Hales...unhappy with demanding fans
So the players, and their agents have to make as much as they can in as short a period of time that they can. And if cricket fans are becoming football fans, so also moves in the middle man who has infested football; the agent.
Cricketers are human beings. I have found that in my interviews with them on these pages that they are just like you or I, except for an ability to hit a ball further or sling one down quicker. Some even make the odd spelling mistake! They have doubts, fears and insecurities just like you and I. Yet in the macho world of the sport you are taught from a young age not to show any weakness. Even at the age of twelve you are taught that if hit by a bowler, not to show pain in case he scores a psychological victory. They are taught not to show these insecurities but how can you not when you are about to be unemployed and have to find a new career in your mid thirties?
Yet at the same time, your average county cricketer will be pilloried on social media, have his technique exposed for all and sundry to look at, for what is not exactly a life changing amount of money.
So when the likes of Neil Dexter sign three year contracts at Leicestershire, he should go with the blessings of all cricket fans. He is 31 and although I don't know his personal circumstances, this could well be his last move. He needs to get it right. Lord Ted Dexter and his wealth, he most certainly isn't. There are many more like him of a certain age, where this time of year they don't know what they will be doing. He has been a great servant to Middlesex and will do a fantastic job for the Foxes. You can expect many more deals to be announced over the next few weeks.
On the other side of the coin, you have the players that are massively in demand. Like David Willey a few weeks back when there were no doubt, eight or nine counties interested in his signature. We saw it with Jack Brooks and James Harris a couple of years ago, and we definitely have a two tier county system in this country, both on and off the pitch. The likes of Northamptonshire now, and Leicestershire are losing their talent to the Test playing counties. Maybe the way they can fight back is to offer the senior professionals a three year contract when they are unlikely to get that at a Division One side?
David Willey...in demand
September can be a cruel month. It can be when players lose their jobs, get released and their lifetime dream of being a professional cricketer comes to an end. Many have families to support and the harsh realities of life kick in.
In the ever growing and demanding world of instant gratification, frustrated supporters at end of season question and answer sessions and keyboard warriors on social media, many county players face an uncertain future. September is a month when the nights are slowly drawing in.
For some, it might be their careers that are slowly drawing to a close too.