For four and a half days this match was as interesting as Glenn Hoddle's commentary on ITV. Low crowds, a pitch that was so far in favour of the batsman that the bowlers may well have been blindfolded and an atmosphere that was more Derby than Abu Dhabi, meant that this one was destined for a draw. What kind of draw though was unexpected. Billy Bragg may have sang about getting "the last flight out to Abu Dhabi" in a pop at the banking industry but if you spent your ill deserved, austerity fuelled bonus watching most of this snoozefest, you'd want to be on the first flight out of there. This one was an advert for Nytol. Luckily for me, I was doing something far more interesting during this than watching the game, as I did a stock take of all the individual staples in my office. And then it exploded into life...
Atmospheric Abu Dhabi

This Test was played at the Sheikh Zayed stadium and until the climactic finish it failed to sheikh us from our slumber as we woke at dawn to watch England take on Pakistan, fiddling with our remote control to fix the colour contrast before realising that Ramiz Raja really had dyed his hair in that remarkable shade of Whitby Jet black. With Test cricket not being allowed in Pakistan for security reasons, they now play in the UAE. There are many Pakistanis working in this part of the world, migrants to the booming construction industry but not many of them came to watch their side here. You can't blame them; it's like England playing on the Costa Del Sol. Perhaps they all came in fancy dress as empty seats? Or maybe there was a five day fire drill? England meanwhile lost Steven Finn to a stress fracture of the foot and he will be replaced by Chris Jordan.
Pakistan batted and early on Shan Masood was bowled via the grille of his helmet by Jimmy. This brought in the returning Shoaib Malik and he batted, and batted and batted. Then he batted some more. Despite losing his partner Mohammed Hafeez for just two shy of a hundred, on and on he went, taking a particular liking to the leg spin of debutant Adil Rashid. Younus Khan then came and broke Javed Miandad's record for runs scored for Pakistan. Pakistan cricket has been through difficult times in recent years, and the longevity of Younus has been a bright light during some dark times for this proud nation. Not flashy or full of shots; a Saeed Anwar he is most definitely not, he grinds runs out like the very best of them and fully deserves all of the accolades thrown at him.
Don't dye for Ramiz...he's got henna
If anyone is thinking about getting an England player a Christmas present then Ian Bell could do with a bib after spilling a couple in this game. Stuart Broad, like The Middle Stump during a boring Test, overstepped the mark. England taking another wicket with a no ball? Asif. Amir sixth one of the year, I believe. The Pakistani skipper got an odd one from the third umpire, as Misbah trudged off miserably.
Asad Shafiq came in and scored a hundred before Shoaib finally went on his way for 245. Rashid and Ali went for close to 300 off of just under sixty overs. No wickets were taken by spinners although Stokes picked up four. Pakistan declared on 523-8.
Javed Miandad finds he has lost his record as Pakistan's leading run scorer
For England, Cook and Ali opened up. For Pakistan they had Ali and Babar whilst the forty thieves were at Southwark Crown Court in London at the Chris Cairns trial. Cook then batted...and batted...and batted. Bell came in and was as scratchy as Malcolm McLaren mixing Double Dutch back in the eighties. Root kept Cook company for a while but it was the Essex man, with a funky new boyband haircut who was relentless. It was a knock of sheer concentration and bloody mindedness and one straight out of the old school. I think I even saw him sweat at one point. Eventually he went for 263 after a mere 836 minutes at the crease and that was to a no ball. Cook drives and cuts so well, although rarely hooks. On this featherbed the ball didn't get up much to hook. Less Abu Hamza, more Abu Dhabi. Saying that Wahab Riaz bowled with pace and got a couple to reverse, accounting for Bairstow with one. Stokes got a fifty, Buttler fell to spin.
England eventually called it a day a couple shy of the 600 mark.
Just when you thought it was meandering to a draw, enter Adil Rashid. The first leg spinner to take a five wicket haul for England since 1959, he winkled out the Pakistan tail aided and abetted by some Lou Vincent-esque batting. Suddenly England needed 98 to win. Could they do it?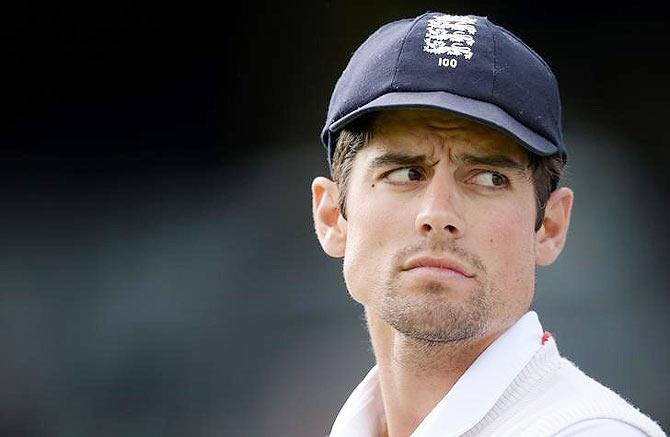 "What do you mean, his shoelace has come undone again?"
Unfortunately not. Despite a brave and heroic effort, the problematic Pakistani shoelace industry, which last surfaced in Karachi in 2001 made them fall twenty odd runs short as they ran out of time. In light fading fast, Yorkshiremen Root and Bairstow in conditions similar to those their forefathers worked in with a canary in the cage, tried hard but the lights went out. Bairstow hitting a six wasted more valuable minutes. You can't blame Misbah or Pakistan for their time wasting tactics. We'd have done exactly the same. What if England had not dropped the catches? What if Cook had scored quicker? What if we had declared first thing this morning? If my Auntie had balls, she'd be my uncle. Hindsight is a wonderful thing, so let's just enjoy the finish for what it was.
Despite the thrilling finale, wickets like this do nothing for Test cricket. When conditions are so far in favour of batsmen or bowler, it makes for crap cricket. Sabina Park got a bad press a few years back when the game got called off due to being too far in favour of the bowlers, and whilst this wasn't dangerous it made conditions so far in favour of the batting team that it was ridiculous. It was the worst Test match that I can remember for a long time, despite the conclusion. It makes you wonder whether UAE stands for Under Anaesthetic Experience? Let's hope Dubai produces a better wicket than the turgid, concrete one here or it will make even less people come to watch Test cricket. For four and a half days it was boring, it was dull and enough to cure insomnia. Yes we had a fantastic finish, but in the main this one was forgettable.
Unless your name is Alastair Cook, Younus Khan, Adil Rashid or Shoaib Malik.