Gary Keedy has just retired after twenty three years in the game. In a career that saw him have spells at Yorkshire, Lancashire, Surrey and Nottinghamshire, Gary picked up over 900 wickets in the professional game with his slow left armers. Unlucky to never be picked by England, he was an integral part of Lancashire's first county title in decades with his wickets. Now on a mission to try and impart the knowledge that he picked up and helping slow bowlers with his new venture Spin Science, we caught up with him recently and discussed his career. Read on to find out about Old Trafford protein blizzards, unorthodox methods from Peter Moores and the art of spin bowling in this hilarious interview with one of the stalwarts of the English game...
Gary Keedy

TMS: Gary, twenty three years in the game, 900 wickets, a legend at Lancashire, it must be a massive privilege to be interviewed by The Middle Stump?
GK: I've been fighting them off let me tell you, but I've been waiting for this interview for ages.
TMS: I've got to ask you this, is it true Bumble signed you for Lancashire in a motorway service station?
GK: Yes it's true. It may have been Birch Services or somewhere on the M62 but we had a brief meeting and I signed on the dotted line there and then.
TMS: Favourite memory in the game?
GK: Running out Gemaal Hussain at Taunton to set up a run chase which won us the Championship. The way it was poised and set up, we literally couldn't shift the last pair and time was running out. I found myself at backward point and remember it now like it was in slow motion. I didn't get many direct hits, well it is difficult to from fine leg, but Peter Moores was hot on all of us doing it. We practiced religiously, did drills and it worked to set up a run chase which we completed and won the title.
TMS: How has cricket changed since your debut back in 1994?
GK: Well the pitch is still 22 yards, with green stuff in the middle and the ball is red and round. No seriously, there is more of an emphasis on run rates and if you went for four an over back then you'd have been smashed. Now you would take someone's arm off for that. T20 has changed it and now chases of six, seven, eight an over are not feared. Sides chase 250 to 300 every week, and if you can hold a side to 280, you'd take that all day long. Other aspects have opened up the ground such as reverse sweeps and switch hits. When I started I would get reverse swept once a season. Now it happens in the first over.
TMS: Best bat you bowled against?
GK: Darren Lehmann. He hit the gaps. He was not only destructive but had fine touch too.
TMS: In 2006 All Out Cricket had a poll on the best player to never play for England and you came out top. Any regrets?
GK: I don't regret anything. It was out of my hands. It does make you wonder if the days of specialist spin bowlers has gone though. Nowadays 44 wickets at an average of 30 gets you a place on an England tour. I got 130 in two years at 25 apiece and never got picked.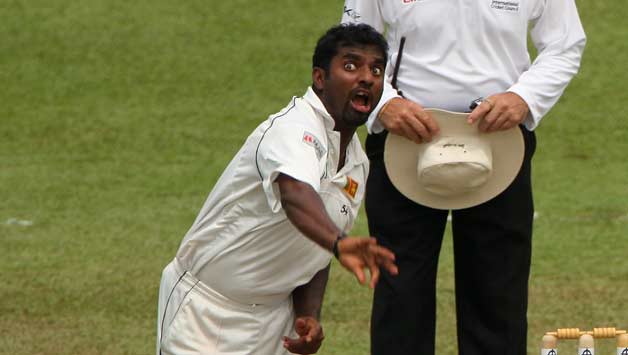 Murali...great work ethic
TMS: You played with Murali at Lancashire. What was he like to work with?
GK: Brilliant. He could bowl on all sorts of surfaces and I learnt about contexts of the game. He had a great work ethic too. He was always in the nets bowling at a stump.
TMS: Quickest you faced?
GK: Craig White would be up there. Ask most players in that era and they would agree. I wasn't a huge fan of facing Brett Lee. Once for England Lions I was batting with Steve Kirby and Brett and Mitchell Johnson had a pace bowling competition trying to get in the Aussie side. It was quick from both ends and Kirbs got hit in the head three times in three balls!
TMS: Funniest moment in the game?
GK: Glen Chapple at Lancashire. He was out and you know what it is like - some people throw bats, some people just sit there. Glen was coming up the steps and I was chatting with Dominic Cork. Glen has hit this pot of protein powder with his bat and it has exploded everywhere. You couldn't see anything for a good two or three minutes, it was like a blizzard. When the dust settled Corky was sitting there with this powder about an inch thick all over him whilst Glen was fuming. On the outside we couldn't laugh but inside we were wetting ourselves.
TMS: Funniest team mate?
GK: Freddie Flintoff took some beating.
TMS: Best and worst drinker in the game?
GK: I can't tell you the best but the worst was a bloke called Richard Green at Lancashire in the mid 90's. He was known as the eight o'clock taxi as he would scream Budweisers down and then just disappear.
Chapple...about to hit the protein powder
TMS: Best sledge?
GK: I didn't really sledge because it never worked against the decent players. I tried to be funny but the best I have heard would be Jimmy Ormond to Mark Waugh about being the best player in the family.
TMS: Best food on the circuit?
GK: Lord's. Nowhere comes close.
TMS: Tightest team mate?
GK: Alec Swann. We won a game once at Sussex and a load of us went out. When it was his round he would always be half full or would disappear. Even when there was just the two of you, you'd buy him one and he was shocked that you expected him to buy you one back. Short arms, long pockets.
TMS: Worst dressed?
GK: Oliver Newby at Lancashire. He would turn up to a black tie dinner in a safari suit. Really bad.
TMS: You batted at 11. Who was the worst number 11 you have seen?
GK: Mark Robinson at Sussex. You have two types of number eleven; the likes of Charl Willoughby you can hit you for twenty off an over playing good shots, or some who couldn't hit the skin off a rice pudding, let alone through the pigeons on the square. You'd know if the opposition had a bad one, as you'd hear the groundsman start the heavy roller up! I batted in every position bar number two for Lancashire. Once at Headingley, Goughy was bowling really quickly and took seven wickets. I came out at 11 and asked Peter Martin what he was doing. Rather unhelpfully he told me, "He's either going to hit you on the head, or bowl you"!
Digger...unhelpful advice
TMS: Not many people go from Yorkshire to Lancashire. Did you get any abuse when you returned?
GK: I left purely for cricketing reasons. I was the obvious choice when Phil Carrick retired to succeed him but then they brought in Richard Stemp who was on the verge of the England side. So it was an obvious choice to leave. You get two types of crowd there though. The one day crowd where you do get abused but that was the whole Lancashire team, and then the Championship crowd where you might get one or two individuals. However most people there are great and I still have many friends there. Even when I went back with Surrey I was made to feel very welcome.
TMS: Tell us about this new venture of yours, Spin Science?
GK: I wanted to keep the flag flying for spin bowling. It's a specialist trade that is dying. I want to rekindle the interest and get kids from the age of twelve or so, wanting to bowl spin again. I started playing Championship cricket and hardly played one day cricket, now it is the other way around. That's where I learnt about flight and really spinning the ball. My T20 record was good because of what I had learned in the longer format. Now spinners play one day first before learning their trade in the four day game. Look at the likes of Danny Briggs who is a fine bowler but he is thought of as a specialist T20 bowler. I want to get people bowling spin again.
TMS: Why is there a lack of spinners in the English system?
GK: I wrote an article on this recently for Inside Edge. Mainly the pitches but also the structure of the season when we play Championship cricket. Now if a pitch turns on Day One, people get nervous and bring in the pitch inspectors. It discredits the bowlers. In places like India it turns regularly on the first day yet we seem to struggle with that, both from a batting and bowling perspective. Spin Science hopes to address this. We are working with schools, individuals and people like the Cumbria and Isle of Man Cricket Boards to teach people game awareness. Hopefully it will make people better batting against spin too.
TMS: Is accuracy more important in a youngster or do you just tell them to rip it?
GK: If they have a good action then they are in a better position to rip it. I have seen some weird and wonderful actions, but I am a great believer in natural ability and polishing the edges.
TMS: Ever take a wicket with a chinaman?
GK: Never, ever bowled one. I did bowl a ball once with my eyes shut! Pre season once against Durham University and was struggling with my action. Peter Moores told me to do it, to trust my action so we agreed on the first ball after tea as it was unlikely I would be charged. It landed middle and off apparently and I opened my eyes to see Peter giving me the thumbs up.
Peter Moores...eyes wide open
TMS: Best grounds to bowl spin on?
GK: Old Trafford was good for the bounce. Sometimes the wickets were like concrete slabs. Taunton was good, I seem to have an excellent record there. The Oval in the latter part of the year is good, as is Edgbaston.
TMS: What were you taught about the dangers of being exposed to the sun earlier in your career?
GK: We weren't at all when I first started. The PCA are good now with educating players and now we are fully aware of everything including this. So many cricketers globally suffer with skin cancer and it is frightening. I don't step foot on the pitch now without a hat, glasses and long shirt unless it is pissing down. I always slap on Factor 50. Why take that chance?
TMS: And the work that Melanoma UK do educating people against this?
GK: Brilliant. Any education making people aware is good and decreases the risk.
TMS: Best three youngsters coming through?
GK: Matthew Carter at Notts. I'm very excited about him. I don't want to jump the ship but anyone who takes ten wickets like he did at Taunton has to be doing something right. There is a lad called George Lavelle at Lancashire under 15 level who goes to Merchant Taylor's school where I do a bit of coaching. He's a wicket keeper batsman and I bowl to him for forty minutes before he does an English lesson. I have never seen a young player play spin that well. Finally Sam Curran at Surrey has caught the eye. I didn't see too much of him when I played there, but sometimes being seventeen and the naivety can be a good thing. You think, what's the fuss? He obviously really enjoys it.
TMS: Gary, you've been an absolute star and I wish you the best of luck with Spin Science.
GK: Thanks Dan, a pleasure.
If you want to read more about Spin Science and the excellent work that Gary is doing then visit
www.spinscience.co.uk