Last Thursday I put on the third Pushing the Boundaries show at Newport Cricket Club with four Glamorgan players. This time it was for the Tom Maynard Trust as well as Melanoma UK and all in all, a good time was had by all. Matt Maynard, Robert Croft, Mike Powell and Mark Wallace gave up their free time to be a part of the show, and in Croft's case he became the star...but more about that later.
Dan with Maynard and Croft

Regular readers of this page will know of the links with Melanoma UK but this one was special as funds were to be donated to a lady called Sarah Swindells who needs them urgently. More can be read about her fight on
www.melanomauk.org.uk
. As for the Tom Maynard Trust, I have always wanted to do something for them but cycling up a mountain or swimming across the English Channel as others have done in the past seems a tad energetic, so I settled for holding a pint in my hand and talking shit with genuine cricket people. I'm ok at that. The Trust do some amazing work themselves and if you want to read more or donate a few quid then
www.tommaynardtrust.com
is the place to visit.
I met some decent people. The clubhouse was full of people from all over South Wales and the accents varied accordingly. The Newport accent varies differently from those in the valleys just up the road, whilst Cardiff is different still and the sing-song, West Walian lilt of some is a completely different tone and sound. The place was full of proper cricket supporters though and the bread and butter of the sport.
The evening started with nominations for Glamorgan based film awards or as we called them, The Coskers. Despite a close run effort from The Adrian Shawshank Redemption featuring Glamorgan Freeman, the winner was Glamorgandhi.
I spoke with Wallace and Powell first and beforehand they had told me that they were the hors d'ouevres for the main course of Croft and Maynard; you know the warm up act, the dry martini before dinner, the prawn cocktail starter or as they amusingly put it - the fluffers! They needn't have thought that as they were brilliant in their own right.
Powell was hilarious as he spoke about an incident of not taking the bad light once with Matt Maynard when up against Shoaib Akhtar and of his rib being buried underneath the SWALEC stadium. Wallace had the room chuckling with stories of on the pitch chat with Paul Franks and it was interesting hearing him run through the technicalities of wicket keeping.
Wallace and Powell...definitely not the fluffers
An interval then ensued as the Newport crowd dined on a local dish known as 'chicken curry, 'alf and alf' which to those not from South Wales is chicken curry served with chips and rice. I meanwhile had a most amusing chat with John Rutledge aka Eggsy from the band Goldie Lookin Chain regarding Kelly Osborne. Listen to their track Song for Kelly on Youtube and you will get the gist of it. The irony of one of the prizes being donated for free tickets to Newport County who have a striker called Lennell John-Lewis and his band having just released an amusing parody of the John Lewis Christmas advert was also mulled over. I even had a pint bought for me by the lovely Stacey too.
Then on came Robert Croft and Matt Maynard. The room was almost crying at times with laughter. I don't want to give too much away in case it is part of Robert's after dinner speaking repertoire, but if you ever go to one of these events ask him to speak about the "naughty ball".
Maynard was equally as funny as he spoke of receiving his first England cap and a camp ex Glamorgan player player who would regularly drop catches off Robert Croft and dirtied his immaculate whites, once first ball after two days of rain. Again, I don't want to give too much away but if you were in the room then you know exactly what I mean. Both of them whilst hilarious, gave the odd anecdotal nugget though and there were some serious moments. It was an educational insight to see two blokes who have played cricket at an elite level.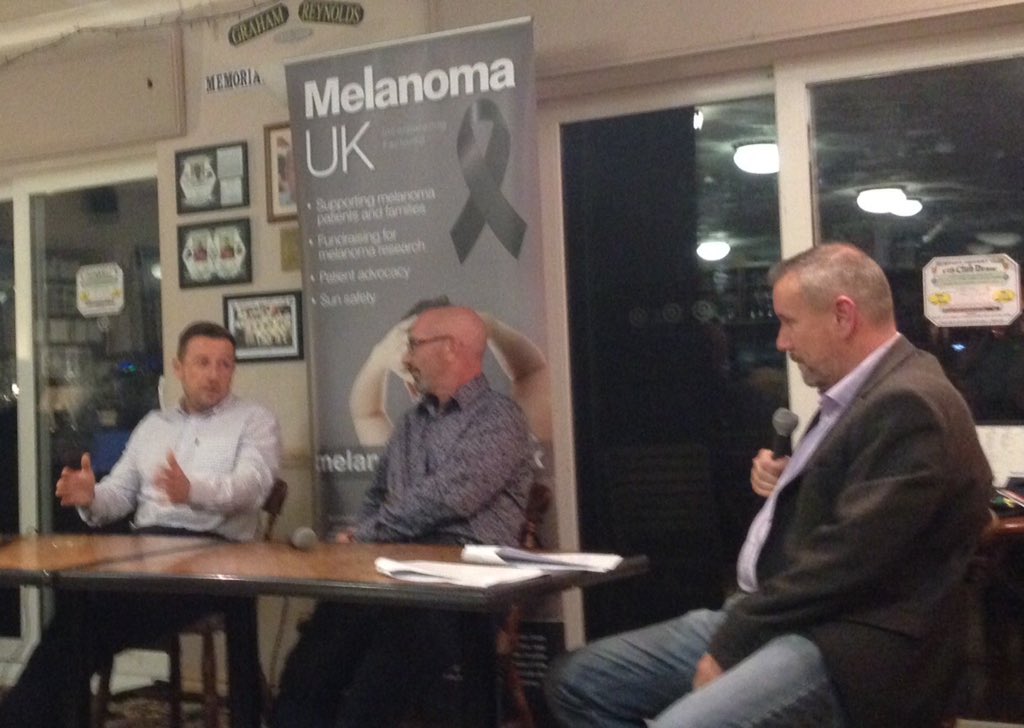 "You're a good team man, Crofty"
To say I lost control of the script would be an understatement! The players were going off on a tangent and seeing as the room was lapping it up, I decided to just scrap the script and get on with it. It might be why the show lasted for three hours though.
Eggsy came on and was highly amusing as a compere of the "luxurious" auction. As he told the room, "tonight was like a bargain holiday, except the memories will last longer". Talking of the auction, I have to say a massive thank you to Dr Christian Aldridge for donating a signed Welsh rugby ball, Nicky Wire from the Manic Street Preachers for signed memorabilia, Gavin Rowlands from Glamorgan CCC for a signed shirt, tickets and a host of other prizes and Mike Fatkin for a signed framed scorecard of Glamorgan's 1997 winning game.
Whilst at it, I'd like to thank Anthony Morris for my seamless video control, Steve O'Donoghue for his photoshopping skills, Mike Rutledge, Gill Nuttall from Melanoma UK and Mike Fatkin and the whole Tom Maynard Trust for their input, along with hosts Newport CC and everyone who attended. I am sure the stories that they heard that night will be recounted once or twice over the next few months.
The players were all amazing too and all of them are a credit to the game.
Eggsy...wasted in music, a career at Sotheby's surely awaits?
The show was a success, if not a tad long but I just couldn't stop the boys once they got going. The evening finished with a chat with ex Glamorgan player Ryan Watkins who was another gent. Whether that is the last Pushing the Boundaries (it may well be), but those who attended had a decent time and the feedback has been positive. South Wales is proud of its cricketers and in return the players acknowledged the supporters.
So all in all, we raised a few quid, we had a good laugh and in the words of Max Boyce, "I was there".