Rob Johnston looks at the dark times that batsmen face. No second chances, no next times, there is something final about a dismissal. Anyone who plays club cricket should have a read and no doubt nod your head, as you identify with much of what Rob says. Rob can also be found with his words of wisdom in Cricket World, The Cricket Paper and the Essex Enquirer. His articles are always worth a few moments of your time. In the meantime, give him a follow @wobblybob25. Have a read on as he dissects the frustration of many a batsman...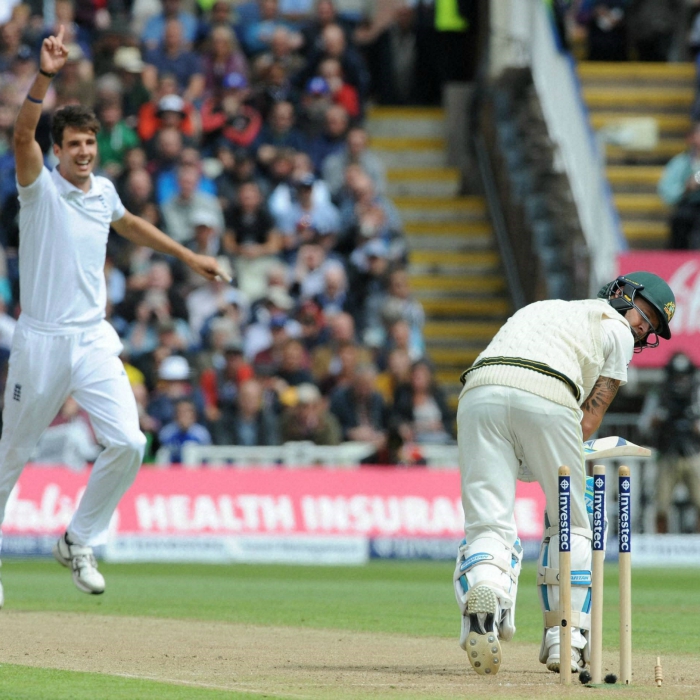 Clarke...tough times as he is bowled by Finn

The wretched run of form that led to Michael Clarke's recent retirement epitomises how frustrating and downright awful being a batsman can be when not playing well. Clarke's anguish was evident all through the Ashes series. It is the same for us amateurs.
I had pretences of making a career out of playing cricket. I went to Loughborough University in part so I could train at the National Academy. Needless to say I did not get in to the Loughborough first team; I didn't even manage to play regularly for the fourth team.
I did get to use their facilities though and my claim to fame was that I had a net in the lane next to Kevin Pietersen. The force with which he was pulling the ball from a bowling machine aiming bouncers at his head suggested someone quite special.
After the realisation that I was never going to be anything more than a club cricketer and would never score a hundred for my country – the shock - I settled in to playing for my club's first eleven where I have been ever since. I've had plenty of mediocre seasons, interspersed with some good ones.
The KP hook...honed at Loughborough
For an amateur batsman like myself the enjoyment comes in many forms: playing well and scoring runs; having a shared goal you work towards with your friends; the social scene and the stories shared over a beer. In many ways, not so different to those Clarke experienced countless times throughout a stellar career.
These are all undoubtedly enjoyable but I have also experienced immense frustration as a club b
atsman. I have wondered more times than I can care to remember why I play the game, why I put myself through the agony of another duck when I could be doing anything else less demoralising.
Of course there is no comparison to the pressure that Clarke was under but professional players can train every day to improve and have access to the best coaches and psychologists whereas us amateurs are rather left to ourselves with our doubts and inadequacies.
Perhaps now more than ever before amateur players measure themselves against a more professional basis. Pre-match warm-ups for club games are as vigorous as before a county match, not to mention things such as pre-season video analysis and fitness sessions which would have been anathema in the 1980s.
That just makes you think you should be doing better. After hours batting against a bowling machine before the season it should surely result in more runs. Often it simply doesn't happen.
A failure on a Saturday afternoon drives me to distraction, another opportunity gone, another week of seeing others make hay fuelling my sense of inadequacy even further. I curse the pitch, my bad fortune, the bowler for having the temerity to bowl the ball. In reality, it is often my fault because I am a club cricketer for a reason but it doesn't make it easier.
You may read that and think that it is ridiculous, but ridiculous or not, it still happens. Any amateur batsman who has played the game on a semi-regular basis will have felt the same I'm sure. You have to live with failure far more than you do success as a club batsman.
Form is a difficult concept for an amateur too. Whilst any cricketer at any level can score a hundred one day and a duck the next, as a club player you often feel that being in form is a fluke, that the low scores are more indicative of your ability. You feel as if scoring runs one week has absolutely no impact on how you might perform the week after.
The point here is that amateur players play the game for fun and a sense of enjoyment but often it simply does not feel fun or enjoyable as a batter. Perhaps I am taking it too seriously – perhaps I'd do better if I relaxed. Who knows?
A bowler's game?
It's interesting that club bowlers I have spoken to don't feel anything like the same way. They always have another ball, another chance to make an impression. For them, the game seems more fun. As a batsman you don't get that chance.
So why keep on playing?
It's the feeling of scoring a rare hundred, or playing a full blooded cover drive, or winning a game you were expected to lose that gives you hope. It fuels the optimism that this year will be the year.
In the end, the good times do outweigh the bad. The memories of runs scored and wins achieved and beers shared trumps the frustration. Those are the things you remember and the things Clarke will remember. But as all amateur batsmen will know, there are some dark times, even when there is in reality so very little at stake.