We're back having had a break where real work has got in the way and we look at the Division Two County Championship. Sponsored this year by Specsavers we look at who will be wearing top of the range Hugo Boss bins and who will be sporting a pair of NHS ones held together by sellotape. With only one team getting promoted out of Division Two due to the restructure it promises to be tighter than an asthmatic's chest. See where we think your team will finish this year...
Worcester...where the title is bound?

Derbyshire - in a surprising move Wayne Madsen resigned the captaincy before the season and Billy Godleman took over. Making big strides under the excellent Pop Welch, the ground is changing too with a brand new media centre. Some excellent youngsters coming through the system but not quite ready for promotion yet. Slater, Thakor, Taylor and Harvey Hosein are outstanding prospects and have imported some quality Kiwis. In the city where they make Rolls Royce, their engines are not quite finely tuned enough yet. TMS Prediction 5th
Essex - about as consistent as the Ford Capri's they used to make in Dagenham. They can be brilliant or rubbish although I expect them to challenge in the shorter format. Chris Silverwood will be looking to add some consistency. Some excellent youngsters such as Tom Westley and Daniel Lawrence but losing Reece Topley to Hampshire was about as welcome as a rainy Bank Holiday in Canvey Island. Hardest team to predict on the circuit. TMS Prediction 4th
Godleman...new skipper at Derbyshire
Glamorgan - some outstanding youngsters here and a new coach in Robert Croft who is an excellent choice. Glammy are investing in home grown youngsters just as they did in the golden years of the 90's and in Aneurin Donald and Dewi Penrhyn-Jones they have two fine players. Might even go one better this year than their fourth place last year, but as they say at the SWALEC...so near, Sophia. I'll get my coat... TMS Prediction 3rd
Gloucestershire - losing James Fuller to Middlesex was a big blow for Gloucestershire and it could be a struggle for them again. Nothing more this lot like though than upsetting the odds and their one day triumph last year showed that. A new skipper in Gareth Roderick and Ian Harvey as coach will ensure they are competitive. Unfortunately money talks though and the gulf between this lot and some of the others is as wide as the Avon Gorge. TMS Prediction 7th
Kent - an outstanding one day side the key to Kent (not Rob) is finding form in the four day format. Daniel Bell-Drummond is a class act at the top of the order and the boys from the South East will be hoping for big runs from Northeast. Two quality overseas players are here too in Tom Latham and Kagiso Rabada. Have a young attack albiet with two very promising prospects in Matt Hunn and Ivan Thomas. Could beat the very best and lose to the worst. TMS Prediction 6th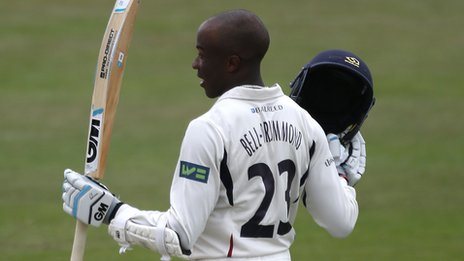 Deeebz...the main man at Canterbury
Leicestershire - will be better than in previous years. The county have given long term contracts to experienced guys and in Neil Dexter they have someone who was doing the business in Division One last season. Whilst I wouldn't expect them to emulate the football team of the city, Leicester won't be the muppets that they have been in recent years. There is life in the Leicestershire Fox. TMS Prediction 8th
Northamptonshire - see Gloucestershire with regards to money talking. If it does, this lot would be mute. Politics behind the scenes could well play a big part in their season and it could be one of struggle.Ben Duckett is promising, as is Olly Stone and we could see a return for Monty Panesar. Their squad however has as much depth as a paddling pool. If this lot tread water and finish mid table it will be a massive achievement. TMS Prediction 9th
Sussex - the favourites with many turf accountants and any side that has Steve Magoffin in it will always have a chance. Danny Briggs arriving from Hampshire will enhance spin prospects in a year when the toss has changed. Ed Joyce will score runs and Luke Wells always brightens things up in Brighton. In a division packed with decent Kiwis, Ross Taylor is one of the classiest. The lads from down south could well be up there. TMS Prediction 2nd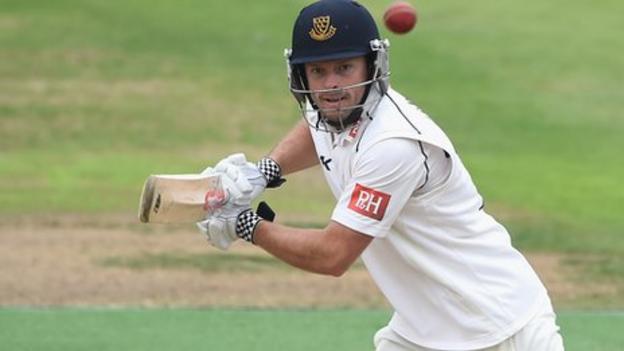 Will Joyce be the Ulysses of Hove?
Worcestershire - if the Severn doesn't burst its banks too often they are my tip to win it. This lot love being the underdog and have home grown talent. Jack Shantry will get lots of wickets and the youngsters Kohler-Cadmore, Leach, Clarke and Cox will play a big part. With overseas help arriving from Matt Henry and Kyle Abbott this lot could well light up the division. Daryl Mitchell in his benefit year will no doubt cash in on the bowling in Division Two. No Severn bores here. TMS Prediction 1st