There's been a lot of chat going around the media about helmets recently and I am not talking about certain journalists. The ECB have enforced the fixed position grill helmets that all professionals should wear and certain high profile batsmen don't like it. Alastair Cook wore one reluctantly whilst Jonathan Trott downright refused to wear the new style lid. Cricket is split. Should the players be forced to wear one? Will it just stop at helmets? Should the players be allowed to wear what they want? Is this a nanny state? Questions abound about safety...
Andy Lloyd in 1984

Firstly, I come from an era where we were helmetless in club cricket. Protection involved twenty Benson and Hedges (ten if you were poor) as a thigh pad and if people wore a lid in the 80's and early 90's, they would have to endure comments such as "here comes Evel Kenieval" or some wag would start singing REM's Man on the Moon from the slip cordon. It was deemed not macho. We also grew up in an era where you had the likes of Viv Richards who never wore one, despite facing the likes of Jeff Thomson, Bob Willis, Imran Khan, let alone his team mates in net practice. However Viv also played in the game where Andy Lloyd was hit on the temple whilst wearing a helmet which finished his Test career after half an hour. He had the choice to wear one or not.
Graeme Fowler mentioned on Twitter this week that he scored two double hundreds in his career. He never wore a lid in either of them. You certainly see more batsmen these days hook off of their nose than you did in the previous era when many batsmen wore helmets but without a grill or a visor.
A non-helmetted Fowler celebrates 200 for England
Cricket has moved on and even at club level, helmets are a regular sight. BSI safety standards in 1998 and then in 2013 mean that helmets are safer than ever. Drop tests, concussion impacts and penetration tests all come into play and Ayrtek lead the way when it comes to cricket helmets. They came to the fore in a televised game when Warwickshire's Keith Barker was pinned and just shrugged it off.
We spoke with Tom Milsom who is a designer and a director at the Bristol based supplier. They are at the forefront of safety with regards to the peak flexing too much and the ball forcing its way through the gap between grill and peak. Talks with the PCA and the likes of Fowler have ensued and what they are doing is a credit to making the game safer. With some high profile injuries and even deaths in recent years the standards that Ayrtek are reaching making the game safer for all concerned can only be applauded. Central ribs, flared arches, it all got a bit technical for me but the long and short of it is that the new ECB initiative will cost us all more money.
New helmets are made from more robust materials and are heavier. Ayrtek will face re-designing costs, more vigorous testing and having to stock the new materials. Then the more helmets that are out in the public domain, the higher the public liability insurance is for the helmet manufacturers.
Michael Carberry in an Ayrtek lid
This is where I see the crux of the matter for the ECB. The problem lies in the litigious society that we now live in. If someone gets hit in the new helmets that have been deemed acceptable by the powers that be, then that will be covered by insurances. If not, then expect the lawyers to get involved.
Trying to convince the England skipper to wear the new helmet and leading by example is another thing. Trying to get Trott, a batsman who has numerous habits such as crease scratching could be even harder. Cricketers are a superstitious bunch. Is being able to see the ball clearly without something in your eyeline safer than having a grill too low and allowing the ball to be forced through? Professionals no longer have the right to remove their lid, even against spin on a hot day.
Another problem lies is where does this end? Is it gloves next? Thigh pads that have to be of a certain standard? Will boxes have to be kite marked? The third umpire could well be strip searching people on the way to the crease. Umpires are starting to wear them now and virtually all wicket keepers do when standing up to the stumps. However unless there is a full style visor, bail in the eye injuries such as those which finished the careers of Mark Boucher or Paul Downton will always continue.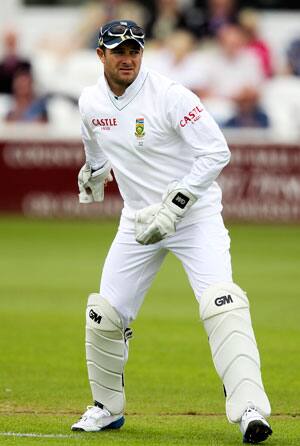 Boucher...bail injury
You have those of a certain generation who believe that people should wear what they wish to. The words "nanny state" have been thrown about. On the other hand we live in a society where liability means money. No one on either side wants to see another Phil Hughes style incident.
Cricket is a game of courage. There is a part of the game which relies on intimidation and the small red thing hurts. No matter what the ECB do, fast bowlers will continue to let people have a couple of short ones before following it up with a yorker. Fixed position grills will not change that.
This one could run and run...