Firstly, apologies for not doing a review of the first Test last week from Headingley. England walked it if you haven't been anywhere near a newspaper or the internet. So they went further north to the a town that might sound French in Chester le Street but shhhh don't tell the people of Hartlepool down the road. We've already had one primate shot this weekend in a zoo. I digress, so after their lashing in Leeds, Sri Lanka turned up in Durham on another pitch that offered seam movement. This one may have been another easy win but it was the Test of the magical milestone.
Beautiful Chester le Street...nowhere near France

Durham have disclosed they are skint. Doing up their beautiful ground has taken its financial toll and they needed this one to sell out well. Despite the best efforts of the Cookie Monster, The Umpires, the Nuns from Our Lady of the Eighth Pint of Fosters (as they were called in the Telegraph) and many others in fancy dress, they didn't sell out. It could be weary times for the accountants up there and I'm not talking about the river that runs close to this lovely venue.
England were missing their local ginger Durham boy as Ben Stokes missed out. Aside from the fake tan of the ladies out on Saturday night up the road in Newcastle, only Jonny Bairstow donned the orange for England. Woakes replaced Stokes. Bairstow played so no Foakes and there was no spot in the team for John Noakes. All eyes were on Compton chokes as England opted to bat. Cook needed 20 to reach 10,000 runs. He was out for 15. He'll do it at Lord's we all thought.
Compton was out in a very un-Compo like manner and then Root and Hales accumulated nicely for eighty odd each. Vince played some gorgeous strokes, Bairstow got runs and then Moeen batted beautifully. No mowing across this alley, Mo's cover drives were just pure class. He ended up with a beautiful 155 before Cook called it a day just shy of 500.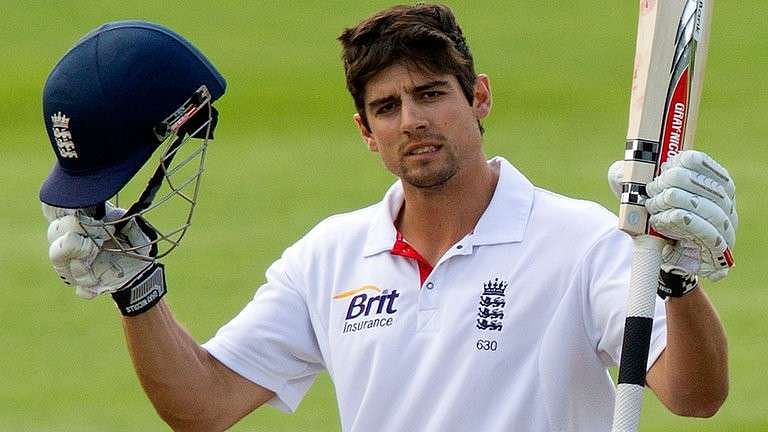 Chef...10,000 Test runs
When Sri Lanka batted, just like at Headingley they gave our slip cordon catching practice. Perhaps they need to go and speak to Boris Johnson and learn their very own leave campaign? 101 all out and they had to follow on. The game was more or less over. For the first time since 1958 a Test side had been bowled out for under 110 three times in a row. I know they aren't used to the conditions but when we faced Murali in Galle on a dustbowl in 95 degree heat, it was hardly home, creature comforts. Lumley Castle may have been overlooking this ground but Joanna Lumley would have showed more steel than their batting. And Sapphire.
When they batted a second time they at least showed some heart. 60 was pure gold from Silva as Angelo and his brotherhood of men battled it out. Mathews himself got 80 whilst Chandimal got a hundred. Well played gents. Jimmy bowled well for a Michelle. England had to bat again to knock off 80 odd.
King Herath...300 Test wickets
And then the moment came. Like a Sunday lunch to lamb farmer Cook, the meat and drink of a leg stump ball was worked through mid wicket and square and just trickled to the boundary sponge. Nothing flash, nothing remarkable, just clinical and did the job. A shot that sums up Cook's career. It wasn't at a packed out Lord's, it was in front of a couple of thousand hardy souls in the North East. However what a fantastic career he has had. The youngest player ever to 10,000 runs and the first Englishman. He deserves the plaudits. It wasn't the only milestone either. Jimmy got to 450 Test wickets whilst Herath, the man who describes his figure to the umpire when he says left arm round, reached 300.
England romped home despite the loss of Hales and go to Lord's with a 2-0 series win under their belt. An unchanged side has been named, although I expect a much closer game.