Pakistan seem a different team than the usual sides that have come over here. Charming, polite and extremely well led by Misbah-ul-Haq, they have made friends since their arrival. In Taunton in a warm up game, they went out of their way to sign autographs and helped speak to Somerset's young players. They have been media friendly and they look the antithesis of some of their predecessors who have arrived here. It hasn't always been the case though. Here we look at some of the rumbles between England and Pakistan.
Misbah...a different approach

For me it started back in 1978. In those days it was deemed extremely naughty to bounce tailenders. None of the Michael Clarke to James Anderson rhetoric then, it was not the done thing. Iqbal Qasim wasn't the most proficient with the bat and when he was sent in as nightwatchman, England pitched it up at him. The furore started the following morning. Holding the English bowling up for forty minutes, Big Bad Bob Willis let him have one and rearranged his dental furniture. Qasim was led bleeding from the pitch and no doubt had to eat through a straw for a few days.
In 1982 at Lord's, Mudassar Nazar swung a ball around corners which somewhat opened the eyes of the English batsmen. Ball tampering was fairly unheard of then but Mudassar's friendly swing accounted for numerous English players in the first game of Gower's captaincy. Gower tried to blame it on the duck that he, Lamb and Robin Jackman had dined on the night before as all three failed to trouble the scorers.
In 1984, Ian Botham returning injured from Pakistan told reporters that "it was the sort of place to send the mother in law on holiday". This was quoted back to him allegedly upon his dismissal in the 1992 World Cup final by Aamir Sohail.
Later in the same decade Mike Gatting had a finger wagging escapade with Shakoor Rana, which resulted in the England skipper having to make a written apology. Gatting was rumoured to have written this under a similar state of duress as a salad lunch.
Gatt doesn't agree with Shakoor's choice of menu
The 1992 tour to England was full of controversy. Brilliant bowling by Waqar and Wasim was overshadowed by Richie Benaud picking up on tv one of the Pakistan bowlers creating a rough surface of the ball. David Constant was accused of racism, an allegation later withdrawn and tensions between the two teams were at an all time high. The series ended but later Messrs Botham and Lamb on one side and Imran on the other, found themselves in the High Court over a newspaper article.
The next decade saw ball tampering and the Test that wasn't finished at the Oval, as well as Shahid Afridi pirouetting on a good length on the pitch like Robin Cousins performing a triple salchow.
Then finally there was the spot fixing match which ended up in prison sentences for three of the Pakistani players. Enough has been spoken about that in the media recently. Mohammad Amir is on this tour and luckily so. He could easily have been handed a life ban, although his age was a mitigating circumstance.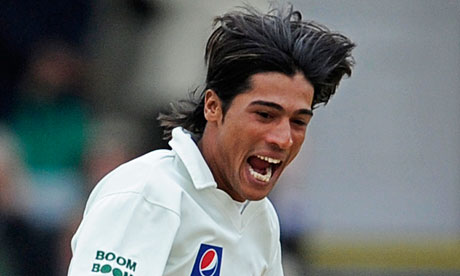 Mohammad Amir
Pakistan have come here with a differing approach this time and should be applauded for their efforts. A fantastic series awaits and two closely matched teams should battle it out over the second half of the summer.
Time will only tell if this series ends up like previous ones.