One of my ex team mates, James Peacock moved to Germany over a year ago. Here James describes his experiences of playing cricket in Frankfurt. Despite the facilities, it is great to see that cricket in Germany is growing and improving, both in numbers and in standards. The recent influx of refugees into Europe means the sport is growing, as well as the likes of Dietmar Hamann on Twitter who loves his cricket. Have a read of this entertaining piece on what recreational cricket is like in a country that isn't known for the sport...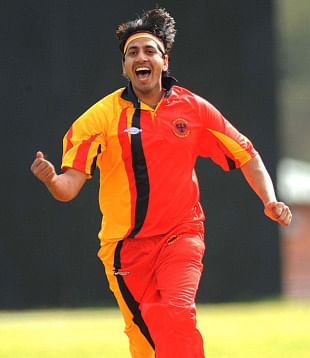 No kits like this please, gents...

Cricket in Germany, who knew?

Take three wooden boards, some coconut matting, some of that green faux turf carpet you can buy from any garden centre, some springback stumps and a shitload of gaffer tape. Congratulations you have your first German cricket strip. Prior to building your pitch you're going to have to find somewhere to put it, this will most likely be at worst a patch of rabbit holed waste ground somewhere on the edge of town, while the best you can hope for is probably a reserve football pitch or as we have here in Hessen; a pitch constructed in the middle of a speedway circuit.

I'm a little bit of a broken record when it comes to my experiences of playing cricket here and deep down I use the term German in the loosest sense, in truth there is barely anything German about it other than the badly mown patch of grass we happen to be playing on. This is subcontinental cricket played by a large majority of players who had only ever played tape ball before fate, work or even survival meant that they found themselves living working or indeed hanging about in Germany.

There's been quite a lot written about cricket here in the few months, and the recent influx of refugees from Afghanistan and Pakistan, has meant that there are now roughly 5000 people playing regularly across the country in around 105 clubs. (There are thousands more playing informal tape and tennis ball matches) These clubs compete in one of five Bundesliga which are in turn fed by a bigger second division called the Regionalliga. The main part of the season is taken up by the 50 over league competition with teams playing each other home and away which is then followed by a T20 knock out competition. Furthermore in an effort to make selection of the national side from leagues which are spread out over the country a bit easier, the last few seasons have seen the emergence of the DCB super series which is a regional T20 competition featuring the best players from each of the 5 Bundesliga. These are relatively exciting times for cricket here, however most Germans I've overheard walking or cycling past our games have very confidently declared that we were playing baseball.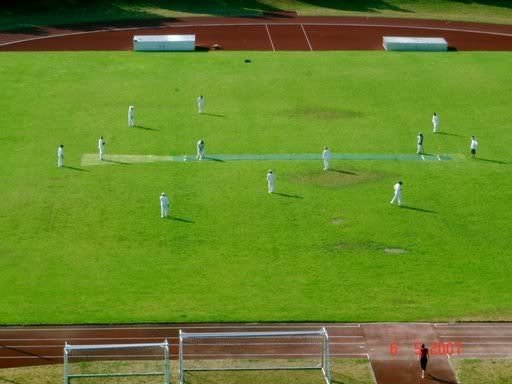 Cricket in Germany
Since arriving here at the end of 2014 I have been constantly grateful and in awe of the determination and indeed ingenuity of Germany's cricketers to play the game in a place so indifferent and unaware of cricket. I absolutely love the fact that I am even playing here at all and in a highly competitive league at that. The competitiveness of the league is however where any real similarities to English league cricket end. This is cricket but not as I know it or remember it and I'm convinced it's made me a much better player. Sure, you can go and play grade cricket in Australia but Germany is the real wild west of self-improvement for cricket exiles.
Things started fairly disastrously for me, I played my first game here on a FLIX cricket pitch which was slowly sinking into the turf of a football pitch. The ball did not get above shin height for the duration of the game. Added to this I was told to remove my spikes and found myself barely able to stand as I continually lost my footing as I slipped on the plastic pitch. Needless to say I didn't last long and was grateful not to have ended up doing the splits.
Luckily things have been improving slowly since that fateful day and I'm happy to say that I have witnessed some of the most seriously brutal, carefree and indeed brilliant batting I can remember. I have watched in awe as the very first ball of a 50 over league match is 'smoked' miles out of the ground and subsequently been sledged in Urdu and Pashto by my own team for leaving the ball. Here the outfields are often left so long that that hitting the ball along the floor becomes almost completely pointless, with the aerial route offering the path of least resistance. Likewise in the bowling departmen
t the margin for error is frighteningly small, too much air or width and you know the ball was about to be bludgeoned into the next
Bundesland
. My first games of cricket left me in no doubt that playing patient, accumulation cricket wasn't going to get me very far here.
There has also been the steep learning curve has been in trying to develop a Zen like patience: Games of cricket take an eternity here and it seems even longer if you don't understand much Urdu. There is also no scoreboard. I lost count of the number of times I asked for the score and was answered in a language I couldn't understand. Added to this most teams seem to have 11 captains on the pitch and there is a field change at least every ball, with very often sometimes two or three more for good measure. It's also not uncommon for certain disagreements to spill over into fisticuffs. One upside is that I can now count in Hindi numbers and am improving my swearing all the time! Another personal favourite is watching players mistime a cross batted hoick only to open their eyes and blame the non-materialisation of a big six on the bat and then immediately demand a change. It's not uncommon for guys to get through 5 or 6 bats in one innings.
An average German kit by the sounds of it...


If the facilities sometimes don't compare to cricket in England, between innings we are nearly always treated to some of the most delicious biryani or curry you'll taste anywhere which beats every cricket tea I ever had ever in the UK hands down. Hands being the operative word here as you have to eat it with them.

At the moment we're reaching the end of our 50 over season, with the T20's about to start. For my club Frankfurt CC we're hoping to hang to the runners up spot in league, having lost out to the speedway track based superstars, Hattersheim. This year's T20 will see the introduction of coloured clothing and white balls, which will be also be used in all competitions next year. So, our final 50 over game this year will in fact be our last one played in whites. It is hard imagine such a change happening almost overnight back home.

I don't know how much longer I'll be here but I don't regret the experience for one second. It has been fun, challenging, exasperating and bizarre all the same time and I sincerely hope that the progress the sport has made here continues.