Middlesex became County Champions yesterday with a dramatic hat-trick from Toby Roland-Jones to beat Yorkshire in a thrilling finale. A season of dramatic twists and turns ended in victory for the pace setters as they sealed their first crown since 1993. Having gone unbeaten, it is nothing less than they deserve but there is more to this Middlesex team than just being excellent cricketers. They are a top bunch of blokes and I for one, am extremely proud of them.
Champions

I have supported Middlesex since 1978. As an eight year old asking a hulking Barbadian for his autograph, the West Indian quick bowler asked me for my name. I squeaked, "Daniel" and he responded with "Dat's my name too...Wayne Daniel" before signing my book and making a North London kid feel proud as punch. From then I was hooked. I loved the 80's sides - Gatt, Radley, Emburey, Edmonds, Slack and was always disappointed if one piece of silverware didn't find its way back to NW8. I then loved the 90's side - Tufnell, Fraser and Dessie Haynes. However a few years ago, I lost a little faith. A poor side that languished in the lower reaches of Division Two, certain players who were aloof and out of touch with the supporters and to quote Angus Fraser who took over in 2009, "It was a bit of a mess". It wasn't a mess Gus, it was a shambles.
Over the last few years I have got to know some of the players. John Simpson came to my club to open the cricket nets. Every kid had a bowl at him, he spoke with them all about their game and made each and every one of them feel like a million dollars, just like Wayne Daniel did with me all those years ago. He stayed for a barbecue and a drink and went over and beyond the call of duty. It was a professional who knew he had a responsibility to the game that has given him a career. Whilst the England selectors (astonishingly!) ignore the claims of the best gloveman in England, Simmo is adored in North London for the type of character he is. For me, the crucial point of the season was on July 13th, his 28th birthday as he scored a brilliant 80 not out as Middlesex chased down 300 against rivals Somerset. That was a title defining innings.
The Middle Stump raises a glass to TRJ
He epitomises this Middlesex team, unfussily going about his business in a cheerful manner. He isn't the only one. Toby Roland-Jones fresh from a hat trick and having the cricketing press clamouring over him, still had time to talk to people in the Tavern after the game. Many of the players were still in their kit. Steven Finn was more than happy to have a chat, Nick Gubbins - scorer of 1400 runs this season, another. Rayner was approachable and friendly and Mike Gatting had a beaming smile for most of the night. Sam Robson has been excellent in the past with my own son, whilst Tim Murtagh is one of the nicest blokes in the game. Sadly, Murtagh couldn't join in the celebrations as he had to dash off to Ireland duties. The whole side are approachable and friendly.
Middlesex offered an initiative this week offering membership to those who play for the counties club sides for just £25. This represents marvellous value and shows that they are building bridges and building a community in suburban North London. Their Disabled Team were crowned county champions and the whole club should be hugely proud of themselves.
Even Gus might, just might have smiled yesterday...
Yesterday was an amazing day. It was the first time that I had seen them win the title at Lord's (the last time outright was 1947 and even I'm not that old!). Somerset and Yorkshire both played their part in an amazing finish and their supporters should be hugely proud. Somerset with the brilliant Matt Maynard in charge, full of home grown talent came from nowhere and almost won their first title. Yorkshire, in Jason Gillespie's last match nearly made it three in a row. They gave it everything and they should be applauded for their input too.
For Middlesex though, the celebrations would have gone on long into the night. Even until early morning in the case of fifty wicket man, Ollie Rayner who lost his keys in the celebrations and ended up on a neighbour's floor.
James Franklin has been an excellent captain. New Zealanders often make good skippers due to their nature and Franklin has followed Brendon McCullum and Stephen Fleming in offering fine leadership skills. Richard Scott and the coaching staff deserve credit whilst Angus Fraser has made the fans proud of the club again. Runners up last year, they went one better this year and were unbeaten. In fact, I think they only had about three or four bad days in the whole summer. No one can say they didn't deserve the title. Like Simpson, many of the side have gone under the radar with a lot of the press but the title was won by a collective effort and everyone contributed. Gubbins' runs, Simpson's runs and catches, Toby Roland-Jones' wickets, Robson grinding it out, Rayner bowling crucial spells, Franky's captaincy, Murtagh's willingness to run in, Finn's pace, Eskinazi's hundreds, Malan's flamboyancy, Compo's stubbornness - it has been a joint enterprise. There are many more coming through the ranks too.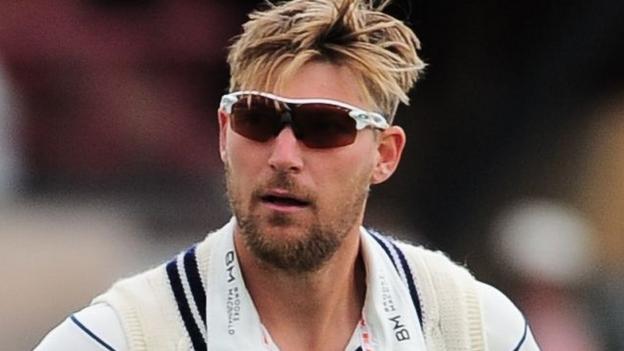 Rayner...key bowler or lost keys?
Lord's was rocking yesterday. Bathed in sunshine, the Yorkshire supporters played their part in the day too, outnumbering the home support in the Compton and Edrich Upper Stands. The tension built over the day until that final, fitting finale as Ryan Sidebottom lost his leg stump to Roland-Jones.
Middlesex can bask in their glory. They deserve every bit of success that comes their way. They haven't just won a County Championship, this current Middlesex team have won over a community.