Apologies I haven't written for a while...a new job has been keeping me out of mischief. However my daughter had to write something for a University assignment, so she wrote this about growing up in a cricket club. It's a great piece and encapsulates what cricket clubs up and down the land are about; a sense of community, of being part of something and the cricket family. Have a read...
Bec as a 4 year old...why do kids like flipping the top of pads?

Growing up on the Walker Ground was an interesting experience to say the least. Spending Saturdays watching my dad play cricket (which proceeded with him having a few beers afterwards) was how I spent most of my weekends in summer. For the best part of the first 13 years of my life I didn't actually know how to play cricket or what it even was. I just abided by a couple of rules that were engrained in all of our heads as children.
Rule number one: Never walk over the boundaries at any point. No matter how tempting or how fun the pitch may look, you will inevitably get shouted at by both the players and people watching.
Rule number two: You must be silent and stand completely still whilst standing behind the bowler's arm. Failing this, again you will be shouted at.
Rule number three: Never ever jump, climb, or walk on the sightscreens, you will delay the game and infuriate everybody. If a batsman should get out whilst you are doing this you will yet again get shouted at. So will your dad.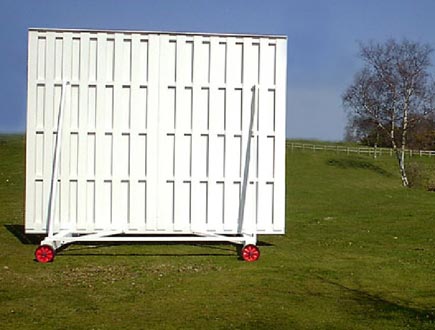 A child's plaything?
And that was that, the kids got on with the day. Playing in the sun every Saturday afternoon while our dads played cricket or relaxed, watched the game and drank beer all afternoon. After the game we would have BBQs and celebrations if the teams won their games. If they lost, everybody would drink anyway and have a laugh.
When I was about 5, one of the girls I was playing with got hit on the head by a cricket ball. Ever since then I always stay well away from the pitch. Or just get someone who is considerably taller to shield me from the danger. Summers were spent running around the pitch and getting stung by stinging nettles endlessly. My dad would teach us how to bowl and bat. I was horrific, not trying to hit it too hard but just to stop it from hitting the stumps; they didn't call me 'Blocker Bec' for nothing. As I got older, my interests changed but I still spent my weekends at the club. I helped out with the afternoon teas and spent a lot of time with the other mums as I felt awkward around the boys. When I was 14 I played guitar on an open mic night and had a cheeky Malibu and coke afterwards.
There is a real sense of community when you grow up in a cricket club. The cricket club is called Southgate Adelaide with Adelaide being the name of the first team captain's daughter when the club was formed in 1870. When I was born one hundred and twenty seven years later, my father was also the club captain. He gave me the middle name of Adelaide.
Even Richie loved a cricket club BBQ!
Being named after the club as well as being the only girl my age made me the baby of this big cricket family. Everyone knew me. Everyone had watched me grow up. I was looked after and cared for and even to this day, I can go back and there will always be a friendly face to say 'hello'. It's a dysfunctional, weird and funny family but it's nostalgic and where I grew up. However people come and go and the family is constantly changing. New generations develop and grow and people don't always stay. Even though I don't go up there as religiously as I used to, I will always remember it and it will always be a part of me.