Here it is with part 2...Division Two of the County Championship looks an interesting league this year with a couple of the big boys in Notts and Durham coming down. Some sides down here have serious potential whilst others have the budget of the Greek Finance Minister. With a ten team division it looks as if there will be plenty of spills and thrills this summer in the lower league. As usual, don't come crying to us if your bets go wrong on our advice and your children get an orange this Christmas. Here is our Division Two preview...
Title for Trent Bridge?

Derbyshire - in the city famous for Rolls Royce, last year was more of a Skoda for Billy Godleman's side. Kim Barnett has been drafted in, as there has been plenty of changes off the pitch and the signing of Hardus Viljoen will give them plenty of fire power with the ball. Imran Tahir will add a bit in the spin department and whilst they won't win it, they should punch a little higher than last year. A bit like Franny Lee did to Norman Hunter down the road at the Baseball Ground in the 1970's. Or a bit like a few batsmen will want to do to Tahir with his wicket celebrations. Prediction 8th
Durham - a 48 point deficit and the loss of Stoneman and Borthwick were tough on the most northerly county but I still think they will finish mid table. Onions and Rushworth will take wickets for fun in this league and if Stephen Cook emulates run machine Jimmy Cook they won't miss their losses in the top order. Will do well in white ball cricket. They might not be singing down by the Riverside but they'll finish mid table. Prediction 5th
Onions...top wicket taker?
Glamorgan - times are tough by the Taff. The top order have to start scoring runs and Jacques Rudolph needs to find form fast. Great youngsters coming through in Donald, Carlson, Lloyd and other home grown players but the county are another Test hosting ground who are struggling financially. Marchant de Lange and Harry Podmore will help Michael Hogan out on the bowling front but their loyal fans deserve better. The bowling is ok but the top order is weak. Prediction 10th
Gloucestershire - unpredictable and capable of surprising a few people. Chris Dent always puts a erm, dent in the opposition bowling averages but losing Klinger and Marshall in four day cricket is a blow. The Bristol public will relish the fact that Phil Mustard joins from Durham but it is mid table obscurity for the West Country chaps. Prediction 7th
Kent - they will be there or thereabouts. Bell Drummond, Denly and Northeast will score lots of runs whilst the loan signing of Jimmy Harris from Middlesex could be inspired. Darren Stevens and Mitch Claydon supply the experience to a squad which is a blend of older heads and talented youth. Jason Gillespie will help out Matt Walker initially before Allan Donald arrives and providing they don't lose their heads like Thomas Beckett did in the Cathedral down the road, they'll be in the mix. Prediction 2nd
Bell Drummond...should be a good year for Kent
Leicestershire - a South African coach with a few Australian imports, Leicestershire might be improving after some troubled years. Mark Cosgrove is still an excellent bat and Paul Horton is a good player at the top of the order. Not so much grace at Grace Road but they are one of the 'have nots'. The lower end of this division is a league in itself and it would be good to see young English talent coming through. Prediction 9th
Northamptonshire - a memorable T20 win last year, they have made two shrewd signings in Nathan Buck and watch out for Max Holden at the top of the order. Signed on loan from Middlesex he is a future Test player according to those in the know. Still, financial problems are unwanted at Wantage Road and another of the impoverished. Rory Kleinveldt will punch above his weight with the bat down the order. Prediction 6th
Nottinghamshire - my tip for the title. If some sides are suffering from financial problems in this divsion then Nottinghamshire are the Germany of the Division Two Euro. Stuart Broad will be around for a while early season and they shouldn't have got relegated with that side. James Pattinson will blast out a few teams at this level and their seam attack with Gurney and Fletcher have the ability to take 20 wickets on a regular basis. Chris Read in his last season may well be a champion. A title on the Trent. Prediction 1st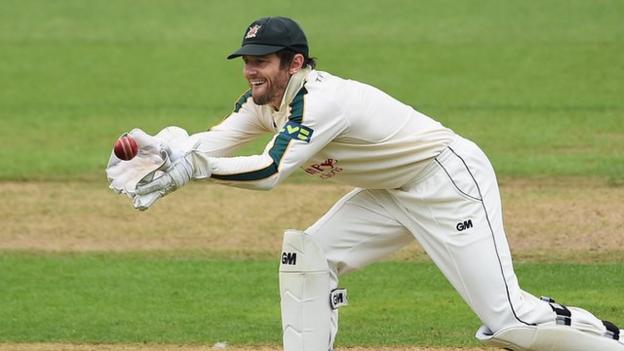 The last hurrah for a top keeper in Chris Read
Sussex - Magoffin will pick up wickets for fun in this division. Jofra Archer looks a decent prospect as does Delray Rawlins. Laurie Evans recruited from Warwickshire is a stylish bat and Chris Nash always gets runs. It really was a toss up for second place with them and Kent meaning I will probably be as popular as Brighton residents Chris Eubank and Katie Price by plumping for Kent. Prediction 3rd
Worcestershire - capable of surprising people and pipping Kent and Sussex. They win games and Leach and Clarke are no average Joe's. Mitchell and Kohler-Cadmore will score runs, as will Tom Fell and John Hastings arrives to bolster the attack. They may well be the surprise package this year especially if Moeen Ali turns out early season. Prediction 4th