Was this really carnage at the Gabbatoir? Was it really a ten wicket defeat? On paper yes, but it felt like England competed until it all spectacularly unravelled. This wasn't a classic Test but was as absorbing as a Tena Pad. It was stop start – the Chris Jordan approach to the crease, the Gareth Gates soliloquy or a man with prostate problems trying to pee but god it was gripping. This was the Brisbane Test. Read on for our review…
The Gabbatoir...
The pre match build up had been full of hyperbole. Lyon had spoken about ending wicket keeper's careers but it was almost Tim Paine's on the first day as the Aussie gloveman spilt an outside edge from James Vince. Starc sorted out Cook early on but Vince and Rocky Stoneman dug in. The Aussies moaned – it's not quick enough scoring, they cried. Vince meanwhile unfurled cover drives of such beauty that it wouldn't surprise me to see them on the arm of an elderly Russian oligarch.
It was all going so well. England were grinding it out, we were competing. Starc bowled quickly, Lyon bowled with guile and turn although most of England wanted to see him put into the stands.
Lyon...out of order
Then Vince ran himself out, albeit by the virtue of some work of genius by Lyon. England slowly but surely, started to unravel. Vince top scored with 83 and was aided and abetted by fifties from Stoneman and Malan. The talk before the series of big hundreds counting in Australia would later come back to haunt the visitors. Even more worrying was the amount of England batsmen out to the short ball. I haven't seen the demise of people hooking so much since David Pleat lost the Tottenham job.
The Aussies batted and they were soon in trouble themselves. Warner, described as a scrote by one or two was bagged by Ball. Khawaja, Bancroft and others came and went but one man was still there. The Australian captain stood firm, the Aussie crowd didn't mind that he scored the slowest century, by an Australian this century. Smith didn't care that he was being subjected to the short stuff, to traps a plenty set by Root. One question though was that we had the Aussies by the balls, 90 odd behind and neither Anderson nor Broad had much of a bash with the new ball. Anderson may have been injured, Broad not so.
On the subject of captaincy, both came out of the game with much credit. Root was thoughtful and proactive, setting imaginative fields that flummoxed the Aussie batsmen. Smith was more traditional in his field settings but he led from the front. His 141 was match winning and the difference between the two sides. Throw into the mix Pat Cummins who kept him company and this Smith was proclaiming "England is mine, and it owes me a living".
Smith..."Heaven knows we're miserable now"
England didn't bowl badly at Smith but their tactics were wrong. They took lbw out of the equation and whilst it worked with Sachin Tendulkar on a tour to India a few years ago with Ashley Giles going over the wicket at him and tying him up around leg stump, Smith was too patient and picked his moments. A lead of just 26 broke English hearts. Yes, 26 runs.
So England went again and Hazlewood nipped out a couple before stumps. Cook hooking, or flapping was unusual and indicative of the muddled thinking of the English batting. Not knowing whether to stick or twist, duck, weave or hook many of the wickets were avoidable. Moeen Ali was out with his foot possibly behind the line, possibly not. The popping crease was so fat in places that it wouldn't surprise you to see it on the lavatory cistern at Daniella Westbrook's place back in the 90's but never mind, it's what's behind the line that counts. His middle order partner Bairstow was accused of sticking the nut in on Cameron Bancroft a few weeks previously. A Keighley Kiss perhaps? Yosser of Yorkshire? Or the old Aussie tricks of trying to unsettle a touring side over there?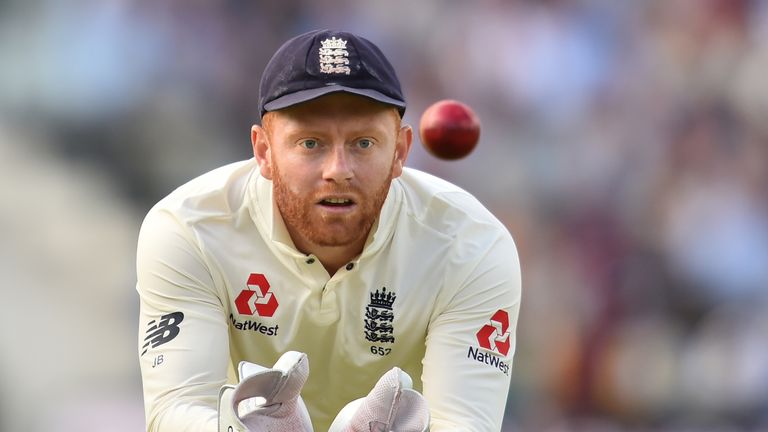 Bairstow...late night jinks
The Aussies didn't need many to win but it was the manner in which they got them that frustrated so many. Warner and Bancroft knocked them off, none down. The second innings king and he who was Grieviously Bancroftly Harmed made it look like a beer match. The wicket did get easier but I expected to at least make them fight for it.
England need to work out how to take twenty wickets in a game. I'm not sure this attack can. We need to add a bit of ballast behind Broad and Anderson. As for the batsmen, it was a big hundred that broke English hearts. Not an eighty, not a pretty fifty but a nuggety, ugly 141. Cook is a worry at the top of the order and a big knock at Adelaide is the answer.
The Day/Night awaits in South Australia. Can we stop the Aussies from going 2-0 up? Can we stop the Aussies winning 5-0? Because however well we played in parts in Brisbane, there are still plenty of questions to be answered.