Thorpster is back, fuming with England, Trevor Baseless and fraternising with Australians at his Christmas do...this is worth a chuckle or three.
Baseless

Last week I got an interesting insight into an Aussie view of this non-event branded as the greatest contest in the world. I was sharing a room with a normally bombastic, fair dinkum Aussie who usually enjoys nothing more than getting stuck into the auld enemy. Before you ask I wasn't paying for services other than a room for the night after the annual work shindig.
As we headed to the hotel to dump our gear and get changed I asked my mate what he thought England's chances were to which he responded "it's the WACA mate and the way your blokes are going it's going to get ugly pretty quickly." He seemed surprised when I told him that England were 300-4 at the end of day one. Very predictably, a bit like England, we were completely shredded by the end of the night after stumbling around the dance floor hopping about like Stuart Broad facing Pat Cummins from around the wicket. The site of two balding middle aged men "busting the moves" to Christmas anthems, was I imagine a bit like watching Brian Close and John Edrich facing the chin music of the West Indies at Old Trafford in 1976. I love the video they show on sky when Andy Roberts, the Antiguan express, says it was the only time he didn't enjoy bowling as it felt like beating up two old age pensioners.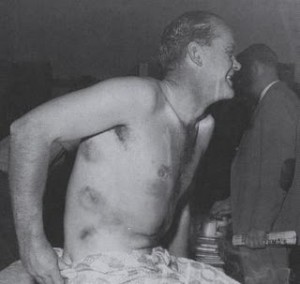 Thorpster after his Xmas bash...
After the party finished we made our way to the kebab shop and then back to the hotel, fighting against the inevitable head spinning, the like of which has affected many an English batsman this series. As I awoke my Aussie roommate made his way gingerly to the toilet with as much enthusiasm as Jimmy Anderson heading out to face Pat Cummins at the WACA. "Tell Weribee to open both pumps", was the cry from the bog as my mate "dropped the kids off" and I turned on my phone to see what was happening in Western Australia. I am reliably informed that Weribee is a famous Australian sewage works, so I'll leave the rest to your imagination. Anyway back to cricket and neither of us were surprised that England had collapsed to 400 all out from 268-4 and the Aussies were well on the way to surpassing that mediocre total.
My mate was surprisingly uninterested which was down to a combination of the inevitability of it all alongside the fact that we had to get to work. First though we headed to breakfast where the sight and smell of his fry up did me as many favours as the opening chasms on the WACA deck did for James Vince, so I decided to go for the plum tomatoes and hash browns to soak up the alcohol; a bit like the Perth curator trying to soak up the wet patches, pre the inevitable conclusion to affairs.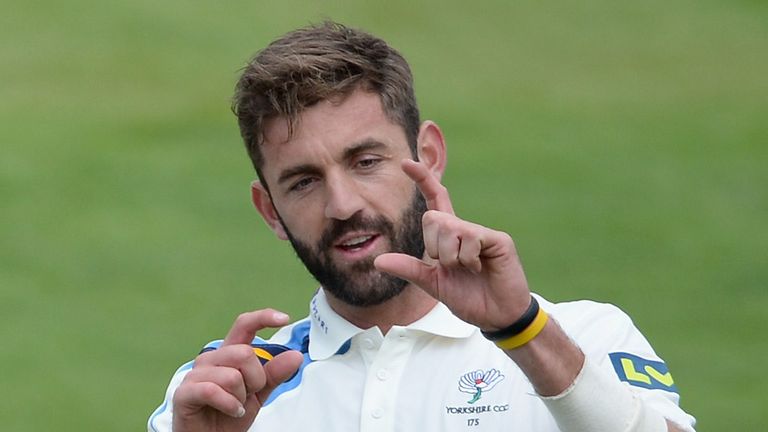 Plunkett...absent
My mate's attitude basically summed up affairs in Australia. The whole thing was and is a no contest. On those tracks with the Kookaburra ball why do we insist on playing four Tommy Rundlers (T.Rundlers) at the 80-85 mile an hour mark? Surely someone like Liam Plunkett should have gone on the tour and been told to steam in. What I also found interesting and puzzling was some analysis on BT sport which showed that Josh Hazelwood's average speed had gone up 5 mph since he got into the Australian test side. Meanwhile the likes of Jake Ball and Craig Overton have lost a good few mph during the time that they have been around the England squad. This must say something about their mentality, coaching or both.
On the batting front why take Ballance as the reserve bat when he is a sitting duck against full and short which is what the Aussie pace trio serve up relentlessly? There are some positives in that Malan looks a player and Vince has shown some nice cameos, while Rocky Stoneman has shown some guts at the top of the order. Obviously the crab like Cook and skipper Root, whose conversion rate is not exactly Dusty Hare, are the major disappointments, while Mo Ali has had a shocker with both bat and ball. It was also in hindsight a major error to leave 'Butting Bairstow' with the tail in the first two tests as his fine hundred in the third demonstrated. I can't see it going any other way than a 'Glenn McGrath' now with another positive meaning that futile attempts to stay awake during the night can be avoided.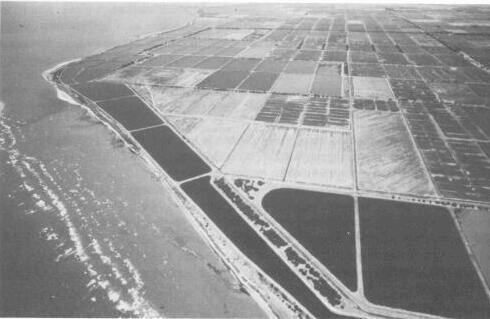 Werribee...like England's performance
In conversation between Dan and I, Bayliss has been renamed Baseless and Listless but England have a decision to make. Do we want to continue pulverising opponents in home conditions with the ball swerving around corners and nipping about like old gits on a dancefloor while continuing to be on the receiving end of Ben Stokes style beating whenever we venture overseas? As ever we need to find a way to keep quicks bowling quick and not turning into Martin Bicknell and James Kirtley and also to find youngsters who actually turn the ball.
If we don't change the status quo I fear during every challenging overseas tour, rather than rocking all over the world, we will keep asking Weribee to open both pumps, as we stink the place out.