So it's gone. Faded away to distant memories - the WACA and the Ashes to be precise. The Ashes have returned to Australia, although technically speaking they are sitting in a museum not a million miles away from where I write this article. Australia have trounced England in all departments. They have been better, hungrier and wanted it more. England can make the right noises in the media but when it came down to it they were found wanting bar one or two. Meanwhile, I lost my temper on Twitter with some Aussie gloating. Never mind the Freemantle Doctor, no medic or weather could save England. This is my painful to write review of the 3rd Test...
Farewell WACA...you won't be missed by us Poms

The Aussies brought into Mitchell Marsh whilst England played the same side but changed the batting order with Bairstow being moved up. Whoever put him below Ali is one of countless poor decisions that we have seen from the management. Could England turn around their awful run in Western Australia?
Root batted and Cook failed yet again. Is it the end of the Essex opener internationally? More on that later. Stoneman dealt with the short ball as well as Piers Morgan did with Brett Lee and Vince too, was soon on his way. The Hampshire lad has been nicking more than Dixon of Dock Green, Juliet Bravo and Luther combined. Enter two English lads with heart and ticker and their stand was an absolute joy. Malan was patient at times and played fluent shots at others. I have rated him for years and is showed genuine courage for a hundred here. He may have even bought a round! Perhaps. Well played Mala.
Malan...excellent
Bairstow meanwhile, scored a hundred which epitomises Yorkshire grit and celebrated with a cheeky headbutt of the lid. The rumour mill is awash on social media that he was the victim of some extremely personal sledging in a previous Test which if so, is a disgrace. The line was crossed and if proved, the player should be banned along with a captain for failure to control players. Once these two were out England were blown away akin to an Eastenders star comforting her husbands pancreatic pains on the A1 according to one wag on Twitter. Nudge, nudge, wink, wink! 403 could have been better. We could have made it safe but this England side can't do it for five days.
So Australia batted and Broad went for 0-142. You knew they were going to turn the screw as Aussie sides do. Steve Smith is an outstanding player. Every time you think he is going to be lbw, only to see the ball whistling through the leg side. Along with Kohli, they are on a different level with Root and Williamson behind. His 239 was hard cricket and punished England. The Marquis de Smith. Mitchell Marsh added insult to injury and the Aussies declared on a mammoth 662. The English bowling was as toothlesss as Shane MacGowan. This was no Fairytale of New York though.
When England batted again, Cook and Stoneman went early doors. Root played at one he didn't need to and Graeme Swann thinks he should be relieved of the captaincy as it is affecting his batting. Hmmm. A bit early for that; I like him as a skipper and he is prepared to try things but just doesn't have the ammo. Is it affecting his batting? Too early to tell for me. As for Cook, I think he will retire at the end of the series. It's sad but it can't be much fun for him, or for us who knew how good he was. He deserves to go down as one of the finest English players but all good things come to an end.
Smith...brilliant again
Vince got a worldie from Starc, Malan again showed some balls but senior players like Broad and Ali looked like they wanted to be anywhere but playing for their country. Hazlewood finally got his reward although his send off of Bairstow was ugly. Both sides have been at the send offs, cricketing's answer to the cheap shot. For me, Josh is the glue in a very good Aussie attack. The Ryan Harris, the Glenn McGrath who allows the flair bowlers to deliver. Lyon again has outbowled Ali. Jimmy came in for some treatment before the Ashes were signed and sealed in front of a sparse Perth crowd.
The Aussies deserve it. Their batting is average but have a world class player in Steve Smith. Their bowling attack is different league to ours. They have wanted it more and they have done a job. I can't see anything other than a whitewash.
England have been shocking. We need to look at our infrastructure. Do central contracts make it too comfortable and make players undroppable? What is this centre at Loughborough doing to produce spinners or quicks? Why do our quicks suddenly lose their nip when they hit the England set up? We play away about as well as Shane Warne with a News of the World reporter following him.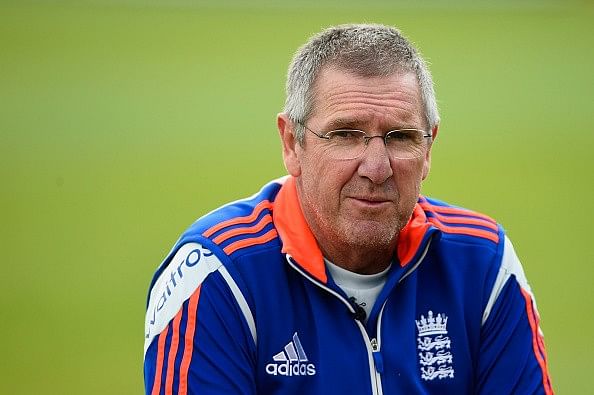 Bayliss...out of ideas?
Is a change of coach the answer? Bayliss looks out of ideas, it has to be said. The selection has again been awful. This goes back to previous tours and taking a load of right arm 80mph bowlers was asking for trouble. We can't bowl this Aussie side out twice. Broad looks wrecked, Cook looks as out of touch as Boris Johnson politically and what the hell has happened to Moeen Ali? Perth was crying out for a Plunkett or a Mark Wood, someone with that extra zip. Perhaps the Aussies have just been better than us and we just take it on the chin?
On we go to Melbourne. More pain is on the way I fear.