So we do this every year. We have a look at who will be the names to look out for in 2018. We look into the magical crystal ball we have here at Stump Towers (not Trump Towers) - sort of like Doris Stokes to pick out the next Ben Stokes. Sometimes we get it right - Haseeb Hamed, Toby Roland Jones and many others who have represented their country. Other times we get numerous names such as "that Joe Root at Yorkshire has got a good chance of making it in 2018". These are the guys who are on the fringes of their county sides, the ones that you will hear more about and these are our ones to look out for in 2018.
Tector...quality

Jack Tector - Ireland
From a well known family in Dublin cricket, Tector is an opening batsman who bowls a little. The captain of the Ireland side in the Under 19 World Cup, a winter playing Grade cricket for the Randy Petes, aka Randwick Petersham CC in Sydney, along with the likes of Jason Sangha who took England for a hundred, will do him the world of good. Just 21 years of age, expect to see this man play a lot of Test cricket in the future. Tector is likely to give some bowling a good Mala-hiding. I'll get my coat...
Josh Tongue - Worcestershire
This 20 year old bowls at a decent lick and will be interesting to see how he copes with Division One after a spectacular debut season. Having recovered from injury, Tongue broke into the Pears side in April and finished with 47 wickets as the Pears won promotion. Genuine pace and bounce are the ingredients to his success and with England desperate for fast bowling depth, this lad could well play higher up than England Under 19's.
Josh Tongue celebrates one of his 47 wickets in 2017
George Scott - Middlesex
Another from a well known cricketing family, Scott broke into a well established Middlesex line up last season. Having graduated from the Hertfordshire Cricket League, a breeding ground for the likes of Steven Finn and Monty Panesar in recent years, Scott is a stylish middle or top order batsman with lots of time at the crease. With his county now in Division Two it wouldn't surprise me to see him get further opportunities this year. Great Scott? He probably will be.
Felix Organ - Hampshire
With a name that is a headline writers wet dream, this Sydney born all rounder is making them sit up and take notice down on the South Coast. An exceptional 61 against India for England Under 19's last summer saw him handed a debut in a rain affected game against Middlesex towards the end of the season. Expect to see more of this 18 year old making sweet music down at Southammond, sorry Southampton.
Ethan Bamber - Middlesex
With a nickname of "Sorry", Bamber is one of the politest individuals on the circuit. That is, until he gets a ball in his hand and he is more than likely to rearrange your stumps. Quick and bowling wicket to wicket this lad is making people sit up and take notice. Bamber and his clubmate Luke Hollman have been an integral reason why their club North Middlesex CC compete so well in Premier League cricket in London and it is no surprise that both have been selected for England Under 19's. I make no apology for including "Sorry" in this line up.
Bamber...a star of London cricket
Ben Green - Somerset
Down in the West, where the grass is green is a prospect called Ben Green. The county have some outstanding talent coming through and Devon seems to be their breeding ground. This Exeter lad is one off that production line and the all rounder can bat, bowl and field. Blooded in the T20 last year, it was no surprise to see them offer him a three year deal. Green in experience but this Green shows maturity well beyond his years. Somerset have themselves a star.
Hamidullah Qadri - Derbyshire
With a father who left war torn Afghanistan to move to Derby, Qadri has come from nowhere to making his debut for Derbyshire last year aged just 16. Not only that but he took five wickets on debut. An off spinner who rips the ball, Qadri was nicknamed "The Magician" by team mate Iain O'Brien. Expect to see him pull out some more tricks and make batsmen disappear from the crease this season.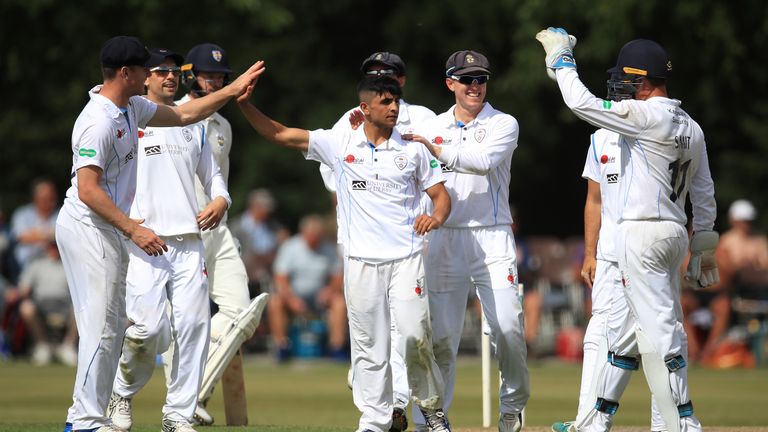 Abra-Qadrabra
Jack Plom - Essex
This 18 year old almost didn't answer David Graveney's call last year and nearly missed out on an England Under 19 call up. However, his name will ring bells amongst the Essex supporters who have a wealth of talent coming through their Academy. Quick, he thrived under the tutelage of Chris Silverwood and looks a real prospect and the confident Essex youngster has passed his first year in County Cricket with aplomb. Times are good in the east.