So the series is alive. India bounced back here after their appalling display at Lord's and it was left for England to lament by the Trent. An intriguing Test match which just about went into the fifth day, was on offer for those in the East Midlands but India showed character and heart at this famous old venue. This was a review of the Third Test Match between England and India from Trent Bridge…
Trent Bridge

India made a few changes. Bumrah came in and made a huge difference and a new wicket keeper was given his Test debut. Hardik, Dhawan, Pant – sounds like a West Indian chat up line, more than an Indian line up. England controversially left out Sam Curran and brought back Ben Stokes, hoping that he could avoid bouncers for a while.
Root won the toss and inserted India, which was an unusual move. Yes, there was cloud cover, yes there was a bit of grass on the wicket but the norm these days in Test cricket is to bat. If in doubt bat and if you really need to think about it, bat.
The Indian top order showed a lot more mettle than they had previously, helped by the English slip cordon. Jennings and Cook are starting to cost England test matches in there and need to be removed. G4S handle nicks in the Midlands better than these two. Woakes removed the top order but Rahane and his skipper Kohli batted very well to help India to an above par total of 329. Pant meanwhile, smashed his second ball for six.
Not pukka batting from England
When England batted, yet again Jennings and Cook both edged behind. Jamie Oliver has nicked less foreign fayre than the English top order in recent times, along with Pope who joined them in the 'schnick' club. Root was controversially caught by KL Rahul, who could catch herpes in a convent, he is that good – the antithesis of the English slips. Pandya cleaned up the tail as England were more limp dicks than Hardik. They were cleaned out in a session for the third time in two years and that is a serious issue that needs looking at. Pandya got a fivefer, Pant was excellent, as was Rahul. India, laughing, joking and smiling looked like the side who were 2-0 up in the series, not the tense hosts.
When India batted Kohli gave us another masterclass. Far and away the best batsman in the series, his judgement of knowing when to leave is a joy to watch. Forget the boom of T20 cricket, watching the defence of a quality player on a surface where the ball does a bit, is one of the quintessential joys of cricket. It might not make the highlights package, but those that know, know. Know what I mean? The Indian skipper scored exactly 200 runs in the match for the second time in three Tests. Bairstow also broke his finger, which will mean changes for the next one.
England needed to bat for over two days to save it.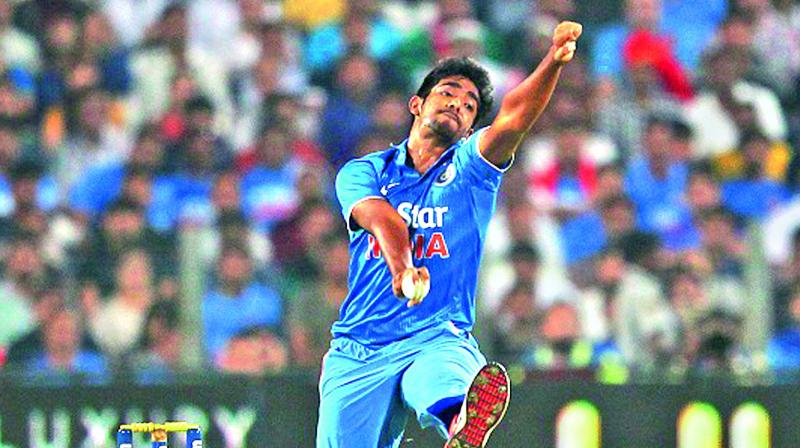 Bumrah...not pretty but effective
After the usual top order nicks – there were more edges than a triskaidecagon, Buttler and Stokes steadied the ship. Stokes, offering a defence on a par with his barrister the previous week was watchful,
whilst some of Buttler's cover driving was breathtaking. The new ball soon accounted for both as Bumrah, with an approach to the crease as staccato as a Gareth Gates soliloquy, picking up the rest. India won by 200 odd.
It was a thrilling Test match. It was an old fashioned sort of Test with skilful batting being rewarded but seam bowling in the ascendancy. India were very, very good and Kohli deserves the plaudits for not only his batting but for picking up a team who were on the ropes, as Nottingham resident Carl Froch would say, after Lord's.
England's next cab off the rank?
England need to make a few changes for the trip to the AEGEAS Bowl. Cook may be at the birth of his child, Bairstow has a broken finger and questions remain over others. Pope needs to bat further down the order, Jennings and Cook (paternity leave excepted) will keep their places but both need a score badly. Curran must come back in – he offers a different angle as a left armer and can bat, a trait so beloved by Baseless and Co. In the middle order I keep hearing Vince or Clarke. Vince? Clarke? Vince? Clarke? God, you'd think Alison Moyet would come out soon having heard those two names. Moeen Ali has helped his cause with a double hundred and wickets against Yorkshire. Alternatively, will Foakes get the gloves to free up Buttler as a bat, or is a batsman at seven a luxury that England cannot afford? Rory Burns or Gubbins to replace Jennings? Jack Leach also got a cheeky eightfer. There are more questions than answers, as Johnny Nash once told us.
So it is on to Southampton that this series moves onto. And I bet you the drama will not relent on the Solent.