So England were allegedly happy with a nought nought by the fort. Whatever we could get to take into the two pitches where we had a better chance of winning the series would be a good result. England were going into the Lion's Den, Herath's last Hurrah, Murali's Manor etc etc. Could England stay in the mini series in Sri Lanka after this interrogation in the south of Sri Lanka? Or would rain win yet again after a one day series where Columbo in his rain coat would be equipped for the weather around Colombo? This is the review of the First Test in Galle…
Stunning Galle

England gave a debut to Burns and Foakes. The Surrey pair, fresh from the County Championship celebrations were deemed good enough to replace the retired Cook and the injured Bairstow. Broad was dropped as England went in with the three spinners. Leach to suck the life out of the Sri Lankans, Rashid to make them itch and Ali to float it like a butterfly and sting like a bee.
England went off in gung ho fashion. Burns was strangled down the leg side and Mo promoted to three was out for two less balls than his batting place, Lakmal the vandal. Root got going and got out and Stokes went soon after. This was England on tour all over wasn't it? Under prepared, under cooked, without Cook. The trick at Galle is to get runs on the board early on.
Enter Ben Foakes. Fireworks Night here might give us Guy Fawkes but this was Ben Foakes who was gently lighting a sparkler or two at the beginning before the rockets and air bombs would arrive later on. Watchful, lapping sweeps would be the mainstay before a memorable hundred arrived. With only Jimmy left at the crease it was a will he, won't he moment. As cricket fans globally remember a Geoffrey Boycott on drive off the front foot to get to a memorable hundred, Foakes got to his off the back foot with a glorious shot. Anyway, this Middlesex fan has had enough of the Surrey love-in on social media. One of your own? OK, South London. England ended with 342 with Perera the pick of the Sri Lankan bowlers, snaffling 5-75.
Foakes...the debut of dreams
Forget gung ho, good old fashioned English batting were the foundations of this Test match victory. England need to stop the bullish batting and to get down to proper Test batmanship. Just as you cannot do the Cruyff turns on muddy pitches in an English January, so you cannot play the fast aggressive cricket that England want abroad. It is a reason why our form abroad has been so poor. In the subcontinent you need to sit in the game and grind down your opposition. England's record abroad has been a testimony to the type of cricket we have played – one that has lacked the flexibility to adapt to alien conditions.
Back to Galle… Foakes took a catch second ball, as well as a stumping on debut equalling the record of Bob Taylor in 1971. If he ends up as good a keeper as 'Chat', he will have done well. Some say he is already in that league. However it was down to Mesmerising Mo, Alluring Adil and Leach the Loop who worked their magic. There is something wonderful about going into someone's backyard and doing them. Imagine taking a battery of quicks to Perth and bouncing them out? Anyway, they did, we did, and Sri Lanka were 140 behind on first dig.
England batted again. No one has taken so much stick as Keaton Jennings over the last few months. John Keats may have written Ode to a Nightingale, but this Keats wrote Ode to a Massive Night in Galle as this knock under pressure, was cue for a big celebration. Not only the relief factor of an incontinent man reaching a motorway services but this one set England up for the win. Reverse sweeps were the bread and butter of this knock but the man who was Lazarus on the seam friendly tracks of England, was Dives, the rich man, in the subcontinent. He batted like a king.
England declared and had two days to bowl them out. Storms threatened Galle, with its fort, its dhows floating on the horizon, its Murali mystery a lifetime away. It's a wonderful amphitheatre, theatrically Romanesque with England the gladiators against the Sri Lankan Lions.
Sri Lanka needed loads to save the game. On a ground where 99 was the highest winning fourth innings score, surely an England victory was like taking Kandy from a child? And so it proved, with our trinity of spinity taking another eight.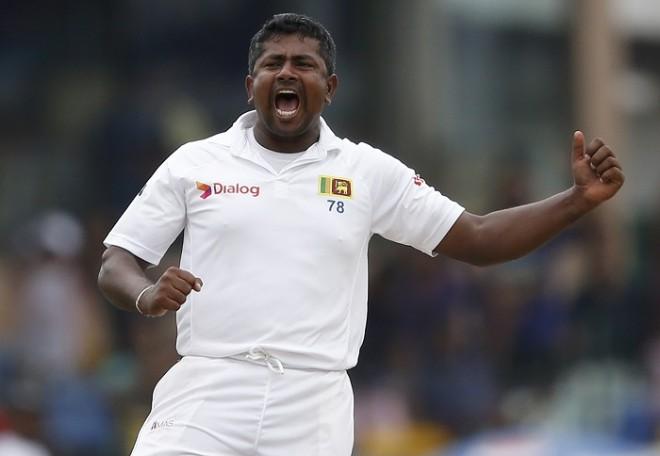 Farewell Herath...an outstanding record
The finale came with the finale of one of the game's greats. Rangana Herath may go under the radar of athletics coaches, or a lot of cricket fans but his record is one to be respected and admired. Debutant in the Nineties, the Apprentice to Murali, it was bizarre that he chose to retire mid series after Galle. His end came in bizarre fashion too, run out needlessly. Herath is one of the game's greats, his record in the all time statistics dictates that.
So England went 1-0 up in this series. A victory in Galle is a decent feat. England move on to the next challenge. Will the next game be a similar Kandy Crush?
This was an excellent England victory at their stronghold.
The Galle of it.