After the win in the south, England were straight back into action as they travelled to the centre of the island. Pallekele, a suburb of Kandy was the scene of this thriller. A victory in Galle is nothing to be sniffed at so it would be interesting to see if this was a flash in the walang as they say in these parts, or if England were the real deal? What sort of pitch would be prepared? Who'd bat three, a role that for England is marginally more in demand than the Minister for Brexit is at present? Bairstow or Foakes, or Buttler - who would be the English backstop as they say in political terms? There were so many questions flying about in the run up, I thought Dimbleby would pop up and say, "Yes, you. The Australian sounding chap in the hat with the glasses", as he pointed towards Trevor Bayliss. Ding, ding, seconds out, round two...
Pallekele

England rewarded Foakes for his hundred in Galle and picked him, even though Bairstow was fit. Apparently the call was down to Bayliss and Root, not Smith's. Foakes, the handsome devil, was the man given the hand in glove. Bairstow missed out, as Smith's picks continue to be left field, yet continue to work. As this charming man, Joe Root would say to his brother, "William, it was really nothing", although these are the tough calls that go with captaincy. Stokes drew the short straw and batted three with Moeen Ali, the Dominic Raab of the side.
England batted and the pitch spun from early on. Puffs of dust in the first few overs had the English spinners twirling their fingers in anticipation. England batted and with attack being the best form of defence, the sweep was used. Reverse, lapped, full blooded, you'd have thought Trigger would have appeared with his broom of seven new handles and eight brushes. Burns looked good but England kept getting in and getting out. Buttler with a solid sixty was the mainstay but it was down to Sam Curran to biff England towards something respectable. How important were those six sixes? Well not quite in Sobers territory at Swansea but it took the game away from Sri Lanka. So much of cricket is played in the mind and a side who were on top looking at bowling a side out for 220 odd suddenly found themselves looking at 290. First innings runs are crucial in Test cricket, none more so than on the 'bunsens' of this beautiful island.
Sri Lanka batted and the seamers merely took the lacquer off the ball before the spinners got into the game. Stokes brilliantly ran out Karunaratne, with one stump to aim at. "Every Little Helps", as ex supermarket employee Jack Leach would say. The run out was crucial. England's spinners weren't bowling very well, requiring that the skipper had a go. Rashid was dropping short and Moeen too full. Roshen Silva took the gold with 85 as the hosts built a slender lead. We saw five penalty runs given to England as a two was deliberately run short in a manner that was more like an Under 11's game than a Test match.
Match winning knock from the skipper
England had to bat well to give themselves a chance. Step up, Joe Root. As one of the best batsmen in the world, the skipper has been frustrated by getting in and getting out. Like Janis Joplin, he has burned brightly at times before departing in the Seventies. That doesn't win you Test matches but his hundred here was match defining. It was a wonderful knock, battling hard in the heat with a ball spitting like a cobra, Dananjaya with the penny whistle picking up six. Foakes justified his inclusion too with a very good sixty. England were 300 ahead, thanks to some Sheffield steel.
Could Sri Lanka grind this out, or would England take Kandy from a child and go 2-0 up?
Leach, having opened the batting and bowling, winkled out the top order but Sri Lanka recovered. It was nail biting stuff and as long as Angelo was at the crease then his Brotherhood of Men were in the game. Forget Brexit, forget Chequers Agreements, forget Jacob Bloody Rees Mogg, this was what this week was about. A thrilling Test match, twisting, turning, ebbing and flowing with Leach, the flotsam and Ali, the jetsam that floated on this surface. Matthews went just before the close on the fourth evening before the rains came down. For those advocating a four day Test, this was the reason why the best form of cricket shouldn't be touched. No referendums here please.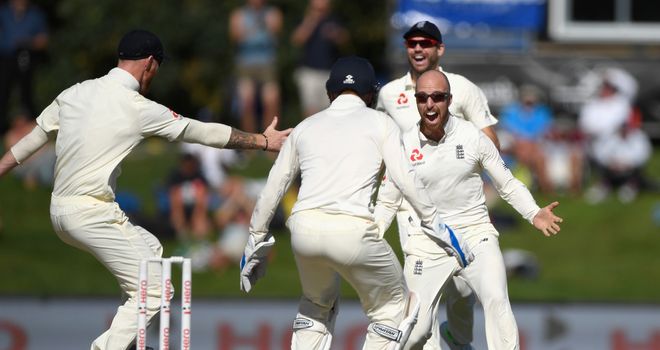 Leach...top bowling
England went into the final morning as favourites, although you couldn't count Sri Lanka out. Clinging on like Theresa May? The end was far less painless than that which surely awaits our PM. In Sinhalese folklore anything facing West is unlucky, often meaning death. It was a man from the West who flicked the guillotine. England's margin was 57 runs - it was closer than that.
A wonderful game and you can't take your eyes off this series. Colombo awaits.