"Once more unto the breach, dear friends", wrote a well known Warwickshire fan but the season cannot come soon enough for those who love the County Championship. One of the best competitions in any sport rears its beautiful head again, as 18 teams, virginal in their pristine April whites, will be around the block and worn out, come September. Here we give our predictions again for the 2019 season. Please note that before you visit your favourite illegal Indian bookie and bet a fortune on the recommendations of this blog, we do get it wrong. And regularly. When the fun stops, stop and all that. On the eve of the Grand National, here are the runners and riders in Division One…
Ciderman Brooks...quality signing

ESSEX – Prediction: 3rd
The Chelmsford kitchen will have another fruitful year as the Chef (Alastair Cook), the Little Chef (Sam Cook) and the Porter (Jamie) will ensure it is another decent year in the East. Whilst not quite Michelin starred, the vegan Peter Siddle will offer an alternative dish and although they won't win it, they'll be classier than the fast food, drive through establishments so popular with the youth of this county. Prediction: 3rd
HAMPSHIRE – Prediction 5th
Another decent year is expected in South Africa, sorry Southampton as top three of James Vince, Aiden Markram and Sam Northeast will be pleasing on the eye. The South Coast county have recruited well in Keith Barker and James Fuller, whilst the likes of the evergreen Gareth Berg is always a consistent performer. Too good to be like a certain ship that sailed from here in 1912, they won't go down but they won't win it either. A nice gentle, Howard's Way sailing trip for this mob.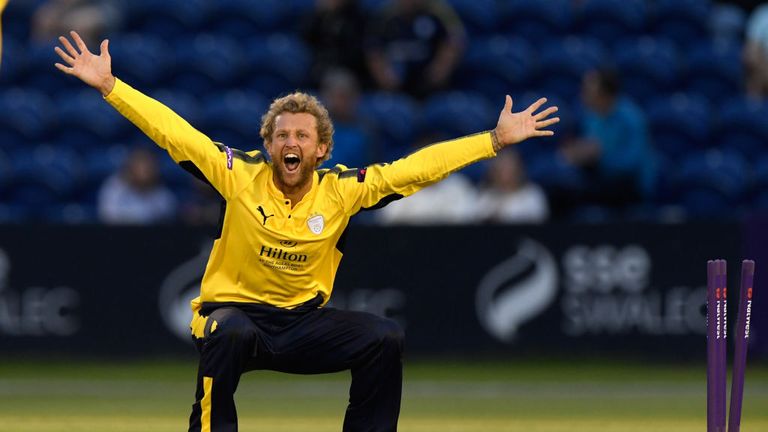 Bergy...consistent performer
KENT – Prediction 8th
Sorry to say it, Kent people but it's going to be a tough year. Last year's promotion was built on the runs of the 'Whitstable Oyster', Joe Denly along with the wickets of Matt Henry. Henry isn't lined up to return and Denly could be on England duty for a lot of the summer. If the likes of Zak Crawley and Daniel Bell-Drummond can pick the hops, then the beer could taste fine but a lack of runs could mean a similar ending to Thomas A'Beckett in Canterbury. Darren Stevens will provide runs and wickets.
NOTTINGHAMSHIRE – Prediction 4th
A double Ben at the top of the order as Messrs Slater and Duckett arrive to add a new line up to those in the East Midlands. Joe Clarke is also a fine addition and whilst the Trent Bridge recruitment has got up the noses of many, they will have a decent year. With the ball, Stuart Broad will play a few and James Pattinson and Jake Ball will make up a dangerous Trentside Trinity.
SOMERSET – Prediction 2nd
Will it just be cider or will it be champagne? Everyone wants them to win it and I think they will go close. Jack Brooks is an outstanding signing who will run in all day. If the Overton lads can stay away from the physio's room, they could even win it. Runs could be the issue – Trescothick is still a threat and Azhar Ali is here all year. The best county player not to play for England in James Hildreth will be up there too. Will be tight but the perennial bridesmaids will be drinking up thee zider, I'm afraid. I hope I'm wrong though because their policy of developing talent from the South West is a good one.
Stewie...building a dynasty
SURREY – Prediction 1st
You don't know how painful this is as a Middlesex man but the title will end up in SE11 again. Stewie is building a dynasty in Kennington and doing it with home grown English talent. Throw in Dean Elgar who will scatter a few pigeons across the huge Oval square and Morne Morkel who will scatter a few stumps. Jordan Clark, Ben Foakes, Ollie Pope along with youngsters such as Jacks and Virdi mean they have too much depth, even when England or injuries come calling. Unlike a black cab after 10pm, I can see this one going Sarf of the River.
WARWICKSHIRE – Prediction 7th
This could be a tough year for the Bears. Dom Sibley is in a considerably richer run of form than yooouw, although he will need to be as Bell is out for a while and they will miss the Trott runs. Olly Stone is lively but Barker is a loss and it remains to be seen if Norwell and Miles from Gloucestershire can fill their new found Brummie Boots. If Kent go well and form is a struggle, it could be a Hollies Horror. I think they will just about be ok.
YORKSHIRE – Prediction 6th
Runs are a must or it will be a tough year in Leeds. Harry Brook is a quality player and Messrs Ballance and Kohler-Cadmore will score plenty. With the ball, Duanne Olivier comes into try and pick up the wickets that Jack Brooks and Ryan Sidebottom have provided in recent years. Ben Coad is a natural wicket taker and they should have enough to ensure there isn't trouble at t'mill.