The Royal London One Day Cup. Enjoy it this season folks because one day cricket as we know it, is about to become extinct. It will be consigned to history - the woolly mammoth, the dodo, the sabre toothed tiger. Why? Because the people that run our game at the top, have now declared that this will be a development competition because there is no room in the calendar for a premier all day, one day tournament. The 100 ball game, aimed at all of those new 'cricket fans', will replace it and at the same time, replace a lifetime of memories for many of us.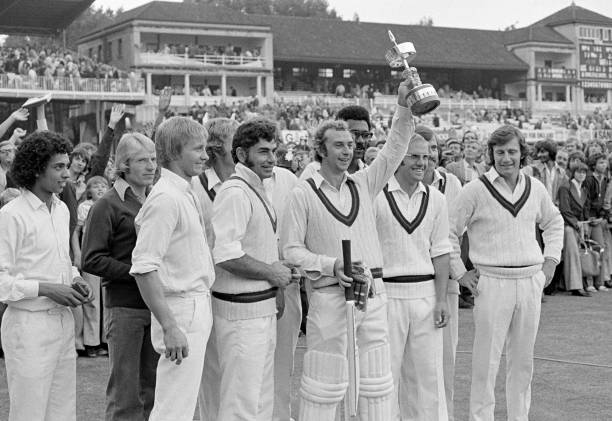 Oh Lancy, Lancy...one day kings in the 70's


Domestic one day cricket is in all of our hearts and minds - the memories of classic matches spring to my mind from either the 55 over or the 60 over games that were played. Think of the Lancashire side, that famous game against Gloucestershire when it was almost dark and the players were moaning about the light. The umpire Arthur Jepson said, "I can see the moon, how much further do you want to see?" The cry of "Oh Lancy, Lancy" would reverberate around Lord's regularly in the Seventies, as another cup would head back to the North West.
Think of the great games - Botham blocking out the last over against Middlesex to win on wickets lost, Middlesex bowling Essex out in 83 as Essex imploded, THAT Graham Gooch hundred in the Benson and Hedges in 79, Simon Hughes getting hit for a six in the last over versus Warwickshire, Somerset's fans drinking Lord's dry in the Seventies and early Eighties as Viv picked up another decent length ball into the Tavern. Gloucestershire, post Proctorshire, with Alleyne, Russell and Co picking up silverware for fun. Every county has their own little bit of history in this competition, even the Minor ones who hosted the big boys in the first round.
How many times would a Derbyshire v Northamptonshire match stick in the memory bank? Well the 1981 thriller in the final was a classic, as the competition changed its name from Gillette to NatWest. It was the best a man could get.
OK, ok I know that was 60 overs and the B and H was 55 but it was the same thing - ish. They were One Day cups and we loved them both. To see them televised all day on a Wednesday after a Test finished on a Tuesday - cricket heaven to us badgers.
Sowter - Sixfer
Even this week the competition has produced some beautiful moments. Watching leg spin is one of the joys of cricket. To see a young one, like Nathan Sowter at Middlesex, pick up a six wicket haul in front of a healthy crowd at Chelmsford will be a memorable experience for any youngster who watched him yesterday. Nottinghamshire and Lancashire shared over 800 runs in a thriller at Trent Bridge. It's not all high scoring games either with Gloucestershire bowling Surrey out for 88 in the week. You can see high profile names, batting and bowling in one day matches, with places in the game for pace, spin, sensible batting and big hitting. It has more finesse than the slog fest of the shorter form.
So where have the Lord's finals gone? T20 doesn't have them, so will these be but a memory too? A Saturday morning with Peter West's gleaming bonce on my box was part of my childhood. I realise that things never stay the same and we have to move on but can't we keep a little bit of history. If we all thought like that, Stonehenge would be knocked down for a nice little housing estate wouldn't it? The Coliseum in Rome? You could fit three tower blocks in there. Notre Dame? Erm. Well Graves and Co are about as popular as the welders who worked on the re-development, this week. They have left the one day game in a similar state to the Parisian cathedral too.
The 100 is only going to drive smaller counties or the non Test playing nations to the wall, just as it has this competition. It is just going to deprive other forms of the game of its stars as the ECB will insist Joe Root and Co play in this format. It is going to bastardise the game that we love with gimmicks. The ECB are panicking because numbers in grass roots cricket are down by 35% since selling the game off to Sky. By putting this 'clown cricket' on terrestrial television, ITV on a Saturday night no doubt, it is their way of trying to rectify their mistakes of the past. It is the equivalent of Joseph using a condom after the immaculate conception.
West...part of my childhood
Cricket is not broken. It doesn't need tinkering with and fixing every year. It doesn't need changing or a new audience, that has as much chance of materialising as me suddenly bowling at 90mph. It has a loyal audience, one that appreciates it and would grow organically if the game were on terrestrial television.
The Royal London has been a great competition. Enjoy this year, as it will be the last one that you will see, as we know it. It will soon be a distant memory. The ECB getting rid of it has been a blow to a number of cricket fans. The timing just before a World Cup has been inexcusable. I'd love to see it continue with two Minor Counties to make up groups of ten. If not, Netherlands, Scotland and Ireland to play a tournament to see which one qualifies? The timing of its demise, before a home World Cup stinks. For that, I blame the ECB.
I mean, it's not as if we're just getting good at this 50 over lark is it?