Finally, it's over. After 48 matches, over 22,000 runs and nearly 700 wickets, it came down to a Super Over that ended with the scores level, England winning on more boundaries scored. Wider chasms have been known between Rahul Dravid's bat and pad than these two sides who put on a marvellous spectacle. This had everything – it had drama, it had tension, it had controversy, it had us hiding behind the sofa, it had us turning to Category A drugs and it had me needing to change my boxer shorts at least three times during that wonderful Skittish Sunday in St. John's Wood. Sponsored by the refreshing London Fields Brewery and their marvellous Hackney Hopster, this is a review of quite possibly the finest game of cricket ever played…
Campiones...

Lord's looked an absolute picture, although the pitch was a sticky dog, albeit one that actually produced an outstanding game of cricket. The Pavilion was full up with its usual demographic but the rest of the ground was boisterous. Many Indian fans who had snapped up tickets in anticipation of their team being there, were in attendance, many supporting England. To see the multiculturalism of a crowd watching a captain of a team born in a neighbouring EU country, was possibly the finest advert for a Second Referendum that I've seen. This was a diverse London cricket crowd watching a diverse bunch of individuals who all qualified for England. It was modern Britain, it was beautiful.To those who don't understand the culture of cricket in London, well my world is a brighter place for a melting pot of nationalities. Cricket fan Jacob Rees Mogg must have been choking on his fois gras.
We joked in the morning how we would 'allow' New Zealand to win their beloved Rugby World Cup in Japan in October, if we could win this one. Personally, I'd happily swap Prime Ministers too.
So in overcast conditions Kiwi Citizen Kane won the toss and batted under the North London gloom. I was surprised but England like to put runs on the board and Williamson wanted to do that himself. Guptill wasted a review as Woakes pinned him in front, much to Taylor's chagrin later in the innings, before Nicholls helped himself to a half century. Middle Stump follower Liam Plunkett bowled with brain to add to his brawn and has been fantastic for England in this tournament. How did we leave him out for four games of it?
Charles De Gaulle
Archer came back showing his Entente Cordiale as he crusted De Grandhomme. Slower balls were working for England with the Kiwis regularly chipping to mid off before on the final ball of the innings Mitchell Santner inexcusably ducked under an Archer bouncer. Surely in a World Cup final you take one on the shoulder and scramble a leg bye? It was the first of many trophy defining moments. New Zealand ended up with 241-8, Woakes with three wickets to add to Plunkett's trinity, Bairstow brilliant on the Tavern boundary.
When England batted Henry was swinging it about. Boult was his usual self but it was the introduction of De Grandhomme that turned the screw. The man known as CDG might not have much in common with Charles De Gaulle but on Bastille Day, his bowling certainly didn't show the English batsmen Fraternite, Root having a huge hoik before losing his liberte edging to Latham. Ferguson steamed in, his Kevin Webster tache bristling in the NW8 sunshine, giving hope to all park cricketers that black trainers were perfectly acceptable in a World Cup Final. With the top four having made the trip back through the Long Room on a pitch where scoring wasn't easy, England were Mark Knopfler – they were in Dire Straits.
Enter Buttler and Stokes. They nudged, they nurdled, they played clever cricket. They got themselves into a position where a win was possible, before Coronation Street star Ferguson bowled one out of the back of the hand, making Buttler slice to deep point where Southee took a fine catch. "Bloody 'ell Sal", the game swung back to the Kiwis.
"Bloody 'ell, Sal. England beat us in the final"
With the overs running out, England's batsmen had to get on with it. All could not rest on Stokes' freckled shoulders. With nine balls left England needed 22 to win. Never mind Ben, Doris Stokes couldn't have predicted an England win from this situation. Ben soon hit one down the ground towards Boult on the line. Trent, like one of the MCC members in the best drinking hole on the ground, the Bowler's Bar staggered backwards and touched the line, as he pouched the ball. Guptill, sportingly signalled six straight away.
It was the next over that changed history. Stokes, like Ron Jeremy deposited one into the Mound, then next ball bunted it out to midwicket to Guptill and needed two. As he dived for the crease the ball hit his bat. Never mind Eoin Morgan, the most famous Irishman on this turbocharged Sunday was Rick O'Shea. The ball squirted off the back, past a startled Latham and down towards the afore mentioned Bowler's Bar. Stokes had no intentions of running but the Laws of Cricket dictated that the boundary should count. Whether it should have been five or six runs though, is a moot point seeing as the batsmen didn't cross when Guptill threw it. If five, Stokes would have been at the non strikers end. The umpires declared it a six, wrongly according to my interpretation of the Laws. Rashid and Wood were martyrs to the cause as England finished level. To misquote Liam Gallagher, this would be a Champagne Super Over.
After everything, the World Cup was coming down to this.
"Hey Eoin, I've just got both of us a knighthood"
England had first dig. Boult was bowling it, Stokes and Buttler were in our corner. The first was sliced over backward point for three. Buttler hit the second to deep square for one before Stokes slogged across the line to mid wicket for four. A single, then two to Buttler as Nicholls had a St. Paul moment on the Road to Damascus and couldn't pick the ball out of the sun, as these two scamps scampered two. The final ball - Buttler clubbed a full toss towards the Grand Stand for four and England had a respectable 15.
New Zealand needed 16 to win, seeing as England had more boundaries, 15 was as much use as the Pope's testicles.
It was Archer who bowled it. I personally would have gone with Woakes but Archer it was. On the home ground of Middlesex, we hoped that this Archer would have a better outcome than the chap firing from his bow at the Oval a couple of years ago, putting an arrow through the heart of their relegation battle, let alone the foot of one of the umpires on that day.
First ball was a wide. "NOOOOOOO" we all screamed at our tv from behind the sofa, nerves jangling. After a single from the free hit, Neesham then pumped Jofra into the Mound Stand. A couple of two's from the next two balls and a single meant that the last ball to be faced by Guptill, meant that two were needed. Guptill hit it to Roy who picked it up and threw it to Jos. Guptill wasn't even in the frame, despite his desperate dive. It was the Jonny Wilkinson drop goal, the Geoff Hurst hat trick. They think it's all over, it was now.
England were Champions of the World.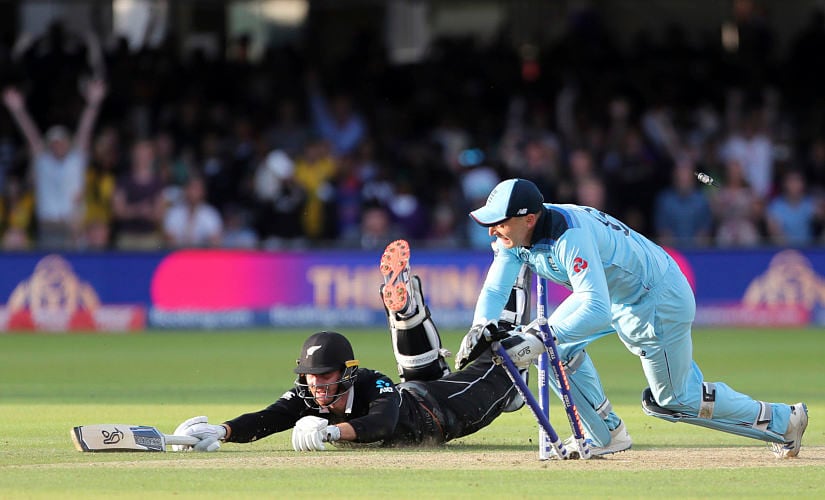 THAT moment...
Firstly, New Zealand. They were desperately unlucky. Kane Williamson is a brilliant captain and they are the good guys of world cricket. In a way, they played the better cricket. All of them should be proud of themselves and the way they have handled the situation is a credit to them. They didn't whinge about the overthrows, they were dignified and honest. The difference between the attitude of this southern hemisphere bunch of guys and their noisy neighbours, is the reason why virtually every English cricket fan has the utmost respect for them. Kane was Player of the Tournament. Whether it is fair to win on boundaries scored is a debate for another time but both sides knew the rules of the tournament. My own view is to keep having a super over until one side wins.
As for us. England only win a World Cup in 'extra time'. Think football in 1966, rugby in 2003 or now cricket in 2019, all were in added time or the super over. It makes us the first nation to win all three. England have showed throughout that they can biff the ball on a flat deck. This needed a little more subtlety and they had the brain to work out how to win. Stokes was rightly Man of the Match but all of the players had played their part during the competition. For Trevor Bayliss, this was where we had put all of our eggs in recent years and it was deserved. I've been one of his critics, when it comes to our Test team especially, so credit where credit is due. To beat India, Australia and New Zealand twice when you need to win the last four was a fantastic achievement.
Sky also deserve credit for offering the game on Free To Air television. It was great to watch and they might get a few people taking out a subscription for the Ashes on the back of probably the best game of all time. I believe around eight million people watched it, no doubt more if there hadn't been a thrilling final at Wimbledon at the same time. The 1999 World Cup classic between Australia v South Africa has been pushed back to a second place. That was a brilliant match but a semi; this was the final.
Citizen Kane...a credit to the game and his country
Spare a thought for Lewis Hamilton too. The days of a Brit winning the British Grand Prix used to be a huge occasion. He ended up with the column inches somewhere near the horoscopes this morning, as two major thrillers took their place in the capital. Djokovic will never be Ben Stokes though.
Finally the catch of the tournament for me goes to Alex Carey. Never mind Ben Stokes at the Oval, Carey catching his helmet as it was dropping on to his stumps, having been 'chinned' by Jofra at 86mph, during the semi final takes some serious presence of mind.
So a competition that lasts for 50 overs will now be downgraded next season as our best players will play in the Hundred. Please ECB, this competition is as popular as a ginger stepson…although we would all adopt Jonny or Ben Stokes. Invest in the Royal London and scrap the crap. Everyone who made this wonderful atmosphere at Lord's, at Trafalgar Square, throughout the pubs, throughout the cricket clubs want England to defend their crown; a crown that will inspire the next generation in the same way that the 2005 Ashes series did, also shown on Channel 4.
At the Home of Cricket, Cricket came Home.