So Ireland played their inaugural Test at Lord's. England turned up the temperature as London basked in 38 degrees, playing havoc with the plethora of gingers on the pitch. Ben Stokes was rested, left to cultivate freckles in his back garden. If Test cricket was sex, a five dayer would be would be slow, gentle love making – foreplay with a candlelit dinner, maybe some wooing with a theatre ticket. This was a quickie in a back alley. This four day test, was curtailed prematurely, much to the chagrin of many a North Londoner – not the first time in my life this has happened but let's keep this at professional level, hey? Could Boris get off to a winning start as Prime Minister? Or would he lead us blindly into the Ashes with no future ahead of us? This was a review of the Lord's Test….
HQ...

England won the toss and elected to bat. An experimental side, with four of our World Cup winners on offer took to the crease on a pitch which was not a dissimilar colour to the Irish one day kit.
The Surrey duo of Burns and Roy opened up and were soon seen off by a man who plies his trade north of the Thames. Tim Murtagh knows Lord's like the back of his hairy hands and his subtle movement up and down the slope here was too much for the English batsmen. 5-13 for Murts gave him the most economical 'Michelle' at Lord's. Shane Warne, Wasim Akram, Curtley Ambrose might not be on the honours board but Murts is and fair play to one of the good guys of the game.
Whilst Ulster Freedom Fighter man Johnny Adair might have kneecapped the odd individual over the years, it was his namesake Mark who rapped Root and Denly on their knees, putting them out of the game. Despite some lower order boshing from Curran and Stone, it was Boyd who finished us off for a paltry 85. Rankin' Dread. It was the fourth time in three years we'd been skittled for under a 100.
Mitchell Starc will have been licking his Australian lips at the frailties of the English batting.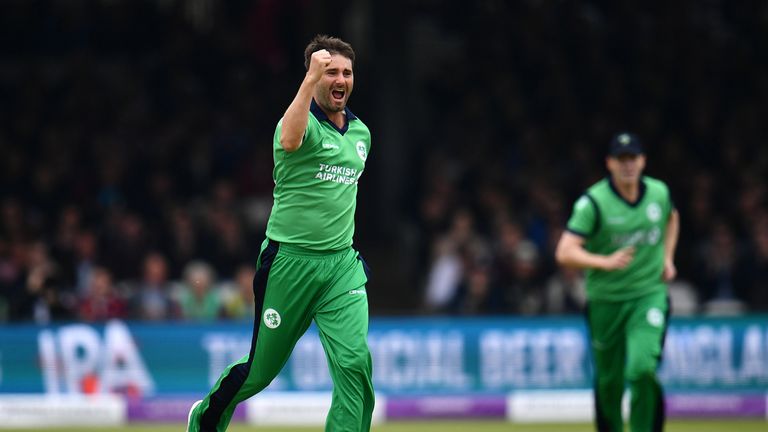 Mid Summer Murtagh
How many times have we reached 400 in our last 34 innings? Once. Burns has a real issue as a Test player in that his bat comes from point to mid wicket – he'll struggle until that is rectified. Roy has come in as a white ball man. On flat decks with a white ball that doesn't swing, throwing your hands hard at it, is a different matter to Test cricket with a cordon. Further down the order, Bairstow gets bowled too often for me, Moeen can't play the short ball, the wide ball or one back into him and in general too many shots are played on the up. Playing out a maiden isn't a personal affront to your manliness. Not in Test cricket.
I saw a documentary the other week on the 2005 Ashes. We don't realise how lucky we were to have Strauss and Trescothick. Maybe they played proper county cricket in mid summer? Just saying...
Ireland batted and were more circumspect. It would be interesting to see how they would bat. Would they bat properly or would they give it a bosh? Would England bowl them out for even less? Would they nick that, or Paddy whack when we gave the ball to Stone? (Cheers IJ). I'll get my coat...
To be fair, as opposed to be sure, Balbirnie batted very well and scored a 50 until he went from a kiss of the Blarney Stone, to a miss off the Olly Stone and got bowled. I suppose this was his home ground, Stirlo gave it some thump and Kevin O'Brien was mature and patient in his outlook. Some lower order boshing from the Lambeth Lara, Tim Murtagh saw Ireland to over 200. He put the ball in the bush a few times, as they say. A sizeable lead in a low scoring game.
Leach... England's opening batsmen problem solved
England opened with a night watchman. The next day Leach looked far more assured than Burns. The Somerset man was more George Michael, with his Surrey counterpart the Andrew Ridgeley of the partnership.
Once Leach had ridden his luck, he unfurled some lovely straight drives down the ground. A few years ago he was pushing supermarket trolleys around for money, now he was getting dropped in the 80s by Gary Wilson. Every Little Helps, I suppose. With Roy for company, England looked like building a big lead but Root sold Denly down the river with a run that even an Islamic Fundamentalist would have called suicidal. Adair caused a pair for J Bair. Ali, like Theresa May, looked like his career might be in trouble having not made the Irish backstop move and England were looking at a lead that Lena Zavaroni would have thought slender.
Lightning put England out of their misery on a day where Lord's boiled. Some with the temperature, some with the England batting. I was at the top of the new Warner Stand and what a view...
So on the Friday, a temperature drop of fifteen degrees saw England add the princely sum of fuck all setting the Irish 182. It was about 150 odd too many. Woakes showed the Irish what a modern day Birmingham Six looks like as they capitulated to a mere 38. England had been vilified for much of the match, yet got out of jail thanks to a fourth innings in the field. Leach was named man of the match but for me, it was Tim Murtagh.
Woakes...sixfer
Ireland were excellent and set some imaginative fields - leg slips, men out on the hook and bowled to a plan. Murtagh, one of the best bowlers in county cricket was outstanding. I can't believe that only a few of them have county contracts. Let's hope this inspires the game to grow there. How they weren't in the World Cup is a travesty. They could and maybe should, have won this one.
England need to be far more patient and realise that a Test match goes on for five days (ok, four in this) and they don't have to score at five an over. Sit in the game and take it deep.