So England travelled across the southern hemisphere and kicked off their Test series versus the Saffas in Centurion. I don't know about you but whenever I hear the name of this ground, located between Johannesburg and Pretoria, I think of Michael Palin as Pontius Pilate in the Life of Brian? With England having a flu bug running through the camp we wondered if it would be more Incontinentia Buttocks or would someone stand up and be our Biggus Dickus? Sadly, it was the former. England were crucified in Centurion, where the Springbok outran the Lion. This is a review of the Test...
Centuwion...

England hit by illness in the run up, brought in Bairstow for Pope and yet again played five seamers. The mining industry that scars the beautiful South African landscape no doubt has less seams than the thoughts of our selection panel. Bizarrely, on a ground that has a reputation for deteriorating in the last innings, England elected to bowl. South African cricket has been through the mill in recent years. Many of their best players have taken the English pound and retired to play county cricket over here. All I can say is thank God there was no Simon Harmer or Kyle Abbott, although the announcement on the eve of the Test that Vernon Philander was retiring and joining Somerset, continued the trend.
Jimmy collected his 150th Test cap. We don't realise how lucky we are to have the Burnley lad. He responded by strangling Elgar down the leg side, first ball of the game. At 111-5 it was looking so good, but then, like the reputation of Prince Andrew, England were undone by De Kock. England hit poor lengths, but De Kock, swinging vigorously at times, whilst flacid at others, stood firm. His 95 was match defining. Curran and Broad both picked up four wickets, Jofra was significantly down on pace. The hosts got 284.
When England batted both openers went quickly but Denly showed he has balls a plenty by hanging around. The man from Whitstable, a town famous for oysters, was like a barnacle clinging to the crease, putting a price on his wicket and not easy to prise from his rock. He might not be the prettiest to watch but he is a proper old school player, not a white ball man who has been converted. Stokes and Root chipped in but a collapse similar to the bowel movements of various members of the touring party came yet again. Philander bowled beautifully, backed up by the pace of Rabada and Nortje. These two steamed in every ball. This wasn't just another game to them, this was a Test match - as it should be, Jofra.
Fwee Woot...
With England yet again being a hundred behind at the end of the first dig, we were playing catch up cricket. The theme continues, England needing a Stokes like effort to get them out of jail. Catch up cricket, or is it just a symptom of a side that aren't good enough?
South Africa had their second dig and this is exactly what is wrong with our game. First ball, Elgar on a pair, Broad coming in with 500 wickets behind him on a pitch that is as inconsistent as the mood of my ex wife with PMT, so what do we do? We have two slips and a gulley, one slides off the face for four down to Third Man and Elgar is away. Despite this, Jofra bowled quickly - although a couple of beamers should have seen him removed from the attack. That is what he is there for - to bowl quick.Van der Dussen on debut got a fifty, aided and abetted by Philander and Nortje. Again, England were dictated to, as opposed to taking the initiative. The hosts set them a mammoth 376 to win.
Burns and Sibley batted very well in response. A partnership of 92, gave us hope. It is the hope that kills us. Their pacemen got tucked in and the inevitable collapse happened. Root nicked off again and Stokes isn't going to pull us out of the mire every time. England lost this game by 107 runs.
The time has come surely for some of those who played at Centuwion, to go to Gladiator school and maybe have a stint with the Lions. Our problems run deeper than that. You might look at Root's captaincy, you might question why we pick a batsman/keeper who doesn't score big runs or is our best keeper, five seamers or why our quickest bowler has trundled in. You might look at why there is no replacements who are good enough to come in but that would just mask the real issues.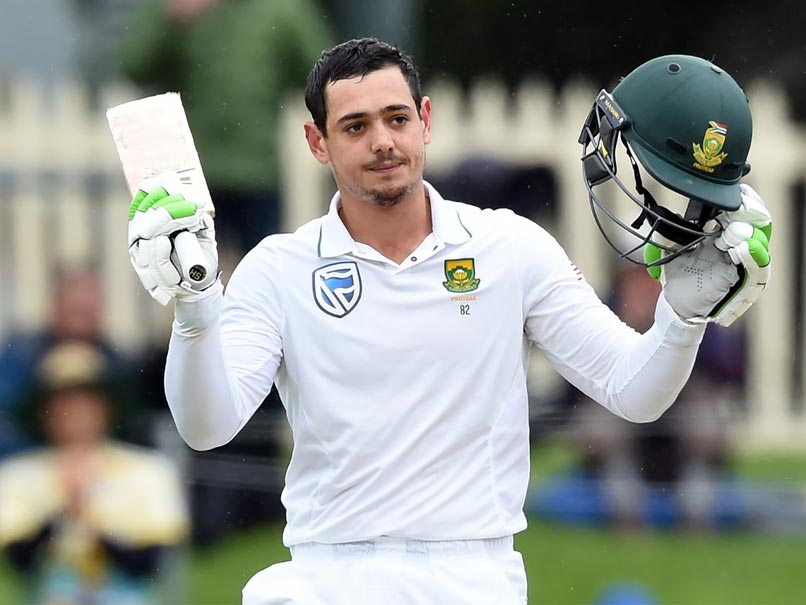 MOM De Kock...showed balls
The real issue is that on the day that Colin Graves was awarded a CBE for his services to the game, you can't help feeling that he has overseen a regime that is awash with failure. Like Palin's Pontius Pilate, he will wash his hands and it won't be his responsibility.
A regime that has put a premium on money and the 100 is a major part of that. The County Championship has been shunted to the ends of the season, helping either 70mph bowlers on wickets as green as the South African cap, or on tired wickets at the end of the season. Neither promote good batting against good bowling, nor do they reward bowlers who do something unusual, such as offer raw pace. It is a fundamental reason why we are so poor away from home. England's failure to score big runs in recent years is endemic to this generation of players. Our obsession with white ball cricket and the money that it brings in, is a testament to the shocking displays we have seen from our national side in recent years in the longer format. Whilst this school of thought remains in place, we will be also rans at the Test game.
I'm fed up of inevitable press conferences that tell us that we showed heart, application yada yada. We just weren't good enough, despite the flu bug. South Africa beat England again in a sporting event in 2019, when they out played us, out thought us and were simply the better side.
South Africa's second string beat us comfortably here. To those of us that follow England, it was no surprise.