1957. The year of the birth of the cricketing God, David Gower. All things revolve around this date - Bradman's 48 Aussies are now 9BDG and in 63ADG, England won their first Test since the year that our left handed God was born. This was an absolute cracker in Cape Town. The run up to the Test had been all about whether these five day matches should be reduced to four. Jos Buttler had been vocal about it. All I can say is thank Gower, this wasn't. It was a splendid advert for the game and proves that you shouldn't mess around with Mother Cricket. It will bite the administrators on the arse if they mess with the essence of the sport.
Newlands...one of THE venues of world cricket

On the eve of the Test England lost Rory Burns to a game of football. Yes, football. Just as Lionel Messi warms up for a Barcelona game weaving and ducking quick bowlers, England lost Mr Burns to a game of football. Kenny Burns wouldn't have limped off, trust me. In came Crawley to partner Sibley and England had the youngest line up since Prince Andrew visited his friends in New York. Bess came in for Jofra, who was injured actually playing cricket.
A Cape Town test is a pilgrimage to the Barmy Army. These guys support England in their thousands everywhere, yet certain places are a Mecca to them. Like a moth to a flame, they traipsed like the Buffalo through the African veldt, no doubt via the vineyards that line the route, before taking place in their watering hole next to the brewery that is adjacent to the beautiful Newlands. Sitting below Table Mountain, this ground is one of the finest sights in world cricket and the groundsman, or curator as they say in these parts, did a splendid job. The wicket here wasn't a road, nor was it like a part of Africa that Lady Diana would have been photographed walking through for her landmine charity, it was just a good cricket wicket with a bit in it for both.
Kenny wouldn't have limped off after a game
England batted and it was the same old shit that we had got used to. A few starts weren't converted and a below par score, or so we thought, on a flat deck was going to see us punished. I have seen Bob Hope, I've seen Shai Hope, I've seen Maurice Hope but after our first dig, in the Cape of Good Hope, I thought we had no hope. But then we had Pope. A battling 61 not out from the Surrey youngster saw us to 269.
South Africa batted and we saw the bearded Pieter Malan. Personally I thought he was more Pieter Sutcliffe but he was soon on his way back to the pavilion along with Hamza and Du Plessis. Elgar made the English bowlers play to his tune along with the impressive van der Dussen. Quite a bit of furore had come about the words of Du Plessis on the eve of this Test and the quota system that South African sport has due to its abhorrent apartheid regime that ruled this country until the early 90's. Whilst agreeing in principle, for me it is at grass roots level that it needs implementing more, so that all creeds and colours should have an opportunity of making it to the national side. A lot of talk has been said about the omission of Bavuma but van der Dussen has taken his opportunity. Jimmy blew the tail away to pick up a Michelle and the hosts were all out for 223. Stokes caught pigeons at slip, whilst credit goes to Dominic Bess for keeping an end so tidy, that surely a career sweeping the oceans of plastic is on the cards when his off spinning days draw to an end.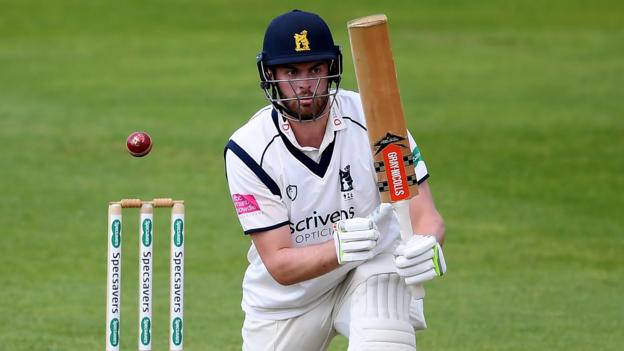 Sibley...maiden ton
When England batted again, Crawley played some nice strokes before departing for 25 and Denly got his customary 30 odd. A breezy 60 from the skipper kept Sibley going and his marathon knock was the platform for a commanding lead. Stokes again took the game away from the opposition and the Warwickshire man finished on an excellent unbeaten 133. England had to grind this out. So many times in the past, we have had a glimpse of the initiative only to throw it away. It's almost Spursy. This time we gutsed it and a fantastic declaration from Root meant that South Africa probably wouldn't win the game. On a wicket that was flattening out though, they might save it.
So when the hosts batted, Malan got 84 at the top of the order. They were looking in control until an irresponsible shot from the skipper saw them plunging back into trouble. A 50 from De Kock meant that England still needed five wickets at tea. A fifth day barney between Jos Buttler and Philander saw the England keeper call the Saffa a "fucking knobhead" and it was high octane Test cricket. Two sides battling hard, neither wanting to give an inch. Either that, or Jos was pissed off at some unpaid overtime having to play a fifth day.
Oh Jimmy, Jimmy...28th Michelle!
Enter, England's talisman. The Fresh Prince of Red 'Air, the Sports Personality of the Year 2019, Mr Benjamin Stokes. Stokes steamed in, 23 odd overs in the African heat and when it mattered he produced. He often does. He took the last three wickets and this infantile England team had secured a famous victory with a few overs to spare. A word on Root's captaincy - a lot has been said, yet he skippered this very well. An excellent declaration, good command of his fielders and bowlers and an important 60 odd meant that this was probably his best Test as a captain. Yes, he isn't in the best of nick and the jury is still out but he did very well here. Credit where credit's due.
This was a superb advert for Test cricket. I thought it would be a draw. There is still a place for cricket like this. This wasn't about sixes being whacked into stands, or fire going when boundaries are hit. This wasn't about people dressed as smurfs or paying £7 a pint for the privilege. This was good old fashioned, Test cricket - one for the connoiseur and it was a brilliant five day game.
Onwards they go, this time to PE. The only PE I will have after a famous English win is a premature ejaculation.