Robert Key has one of the finest cricket brains seen in recent history. One of the best county captains of recent years, he is now utilising his knowledge for Sky Cricket and has become one of the best pundits around. It's not just all erudite stuff though - he could play. You don't play for the amount of time that he did, or score a double ton for England without plenty of ability. Here he catches up with us as he discusses Matt Walker's quiz tactics, Min Patel's gambling habits and how Queen Elizabeth II stopped him from having a fag. Read on for an interview with one of the real characters of English cricket of his generation...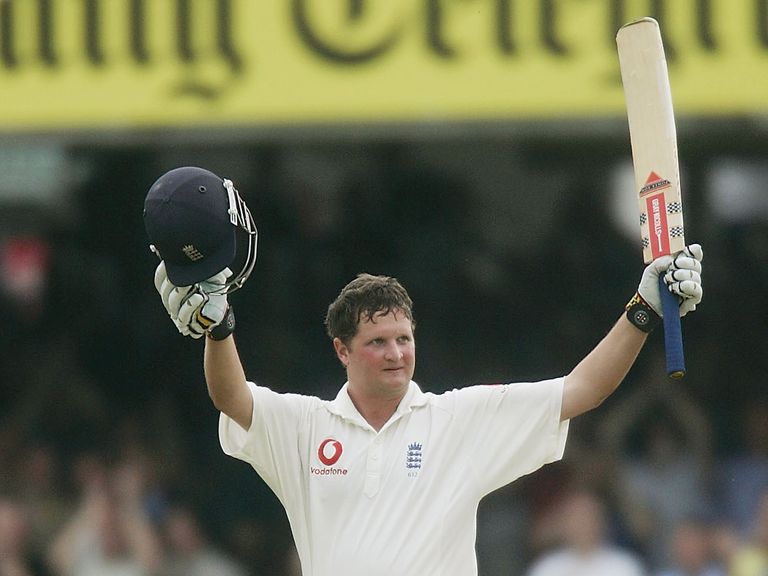 Robert Key

TMS: Rob, 20,000 First Class runs, an 18 year career, 221 for England, one of the best cricket pundits around - this must be a career high doing an interview with The Middle Stump?
RK: Absolutely. You set yourself certain goals in life. Now I've achieved one of them, there is nowhere else to go.
TMS: Let's get straight down to business. I hear that you are outstanding to have on your team in a pub quiz. Any truth in this?
RK: Ha. Good at cheating at a pub quiz maybe. Saying that not as good as Matt Walker who famously cheated to win one at The Village Hotel in Headingley when we played Yorkshire one year.
TMS: Do you miss playing?
RK: Not really. There comes a point where your body can't do what your mind tells it to. It is like driving a bad automatic car, where there is this 3 or 4 second delay and it's horrible. You feel you are letting people down when you miss the ball. So no, not really.
TMS: You did 18 years at Kent. Geographically, you must have done a lot of mileage playing county cricket. Are you an avid fan of motorways?
RK: No, you get to despise it. I used to share trips with Min Patel. Min was shrewd and good to listen to but a poor driver and a big gambler. We once did a spread bet on the amount of bridges we would cross between Durham and Canterbury. I sold on 250 and there were way less than that. Min let me off thank god or I'd have owed him a fortune. We also started to do the Times crossword but never finished it.
Matt Walker...pub quiz champion
TMS: Quickest faced?
RK: Three stick out who were all quick through the air but sometimes pitches slowed down the other guys. Shane Bond once flicked my collar at Edgbaston and bowled a quick spell. Brett Lee at Perth in the Ashes but they all went over my head. Shoaib Akhtar was the other. I faced him under the old lights at Canterbury, you know the old energy saving bulbs before permanent lights went in. That was an interesting experience.
TMS: Who got you out the most?
RK: It was always the medium pacers, the likes of Damien Martyn or Steve Waugh. I think I stayed pretty injury free because people would bring on the dobbers at me. It was the likes of Dimi Mascarenhas, David Masters or Kevin Dean that gave me sleepless nights.
TMS: Best sledge?
RK: (Thinks for a while). Not at me but it was Steve Kirby to Matthew Fleming. Kirbs had been out with us the night before and we went to the rugby with him tagging along with us. He got on really well with Fleming who was from a wealthy banking background. They were like the best of mates before the first ball of the following morning with Kirbs greeting his new found mate with a bouncer before exclaiming, "Get back to your pot of gold, you ****"
TMS: Tightest team mate?
RK: Oooh a few. Daniel Bell-Drummond is a good mate of mine but I've yet to see him buy anything. Sam Billings would sell his arm on Instagram for a freebie.
Sam Billings...using both arms
TMS: I've heard a story that John Wright, your coach at Kent was not happy with you drinking just a coke on an away game?
RK: Yeah it is true. I was 17 and thought I would be making my debut. John Wright told me to put a Jack Daniels in it. After the third time, it dawned one me that I might not be playing and was 12th man.
TMS: Best food?
RK: Lord's was but it all became performance enhancing food everywhere towards the end, as opposed to somewhere you'd want dining out. At Lord's you got a menu and choice though, as opposed to just being served up something. At Kent I started a trend at Canterbury of just skimming the tasty bit off the top of the Apple Crumble. Everyone else started doing that and it was just left with a load of bitter apples in the tray. The chef went mad.
TMS: Best knock for England?
RK: I got a 90 odd to win the game at Old Trafford with my best mate in the game, Freddie Flintoff. It doesn't get better than winning a game for your country with your best mate. Saying that, I still wasn't completely satisfied. In the quest for perfection, you always pick holes so no knock is perfect.
TMS: What is it like scoring a double ton for England?
RK: Quite good, funnily enough. I had a migraine which I often got when I was dehydrated. It was a muggy day and I got to 100 but had blurry vision in my left eye due to the migraine, so I had a slog and all of a sudden I was on 160. We met the Queen at tea, so I could only have one cigarette and didn't hydrate so in a way I blame her but also thank her for giving my licence to play shots.
With his mate Freddie
TMS: We have seen 20 odd openers for England in the last few years. Do you wish you were born ten years later?
RK: Ha. Not much I can do about that. I'm chuffed how life has turned out and I'm very lucky with a great job at Sky. I wouldn't trade anything differently. Maybe if I'd been picked more for England I'd have had less punditry work and wouldn't have learned my trade doing this, so I've been lucky in many respects. I'm glad I played when I did because county wickets were different back then - much firmer. Bar The Oval or Edgabston now, not many are rock hard. You wonder if the improvements almost every ground has made with drainage has affected the wickets and taken the moisture out, so no, I'm glad I played when I did.
TMS: Still good mates with Freddie Flintoff and Steve Harmison?
RK: Yeah I still see them, although speak to them more. We stay in touch quite a bit though.
TMS: You're receiving lots of positive feedback for your work as pundit on Sky and your column in the Standard. What makes a good pundit?
RK: I work on Sky with some great pundits. Nasser is brilliant, Bumble and Athers too. You try and give technical insight and don't just pull apart someone's game and highlight their mistakes. You look at the good and bad in players, the trick is explaining why players do that and these guys do it best. Bumble is brilliant and is more than just about the cricket, which is a great skill to have.
TMS: What were you taught about exposure to the sun as a professional cricketer?
RK: When you're young, you think you're invincible, naive even. You don't pay attention. It was only later in my career that you get tested regularly and you become much more aware. You're fortunate that these tests exist nowadays.
Zak Crawley...one to watch
TMS: Have you heard of the charity Melanoma UK and the work they do educating people against over exposure?
RK: I have. My daughter's friends mum is a doctor who has worked with them. They do a lot of selfless work and these things pass you by until you're affected. It is then you are grateful they exist and those people who devote their time, they are the real heroes, not people who hit a cricket ball about.
TMS: Best three youngsters coming through?
RK: Zak Crawley, Dan Lawrence and Henry Brook.
TMS: Rob, you've been an absolute star and thank you for your time.
RK: Thanks Dan. A pleasure.