It's fair to say I'm pretty bored right now. As a bloke whose life has revolved around the public house and sport, my 'essential travels' in these troubled times has revolved around searching down the back of the sofa for the remote control. So imagine my delight when I realised that BT Sport were showing highlights of my favourite ever Ashes tour the 86/87 series.My mind would race back to highlights on BBC2 where I would tune into the show after some slapstick Harold Lloyd, which preceded it every night. Under the captaincy of Mike Gatting, memories of those halcyon days were rekindled as England spanked the Aussies. For offering us the likes of Mrs Mangel in Neighbours, we got our own back in the days when the only Aussie Mitchells on offer were Madge and Charlene...
Our revenge for this crap...

In the run up to the Test series the journalist Martin Johnson had written the immortal line, "this England side has only three problems wrong with them - that is that they can't bat, they can't bowl and they can't field". The press were expecting a young, inexperienced Australian side to regain the Ashes that they had lost over here with one of the worst sides to ever step foot on a Qantas plane in 1985. England had warmed up poorly as usual with a Gower pair and ducks for the likes of Lamb and Gatting didn't bode well for the tourists.
So we started in Brisbane, with highlights presented by a dapper and suntanned Richie Benaud, resplendent in a white suit, the sort worn by pimps in the Bronx in New York in the Seventies, yet carried off with panache by the greatest man to ever pick up a microphone. These were the days when the Gabba wasn't so much a soulless concrete, monolithic bowl, rather just a soulless bowl. England looked wonderful in their MCC jumpers.
We needn't have worried. A Botham ton, one of the members of both sides with a decent mullet, saw England to a large total, helped by Bill Athey and Gower. This was too much for the hosts as the wonderful Graham Dilley, god rest his soul, with five in the first innings and then Emburey with five as the Aussies followed on, meant it was just a meagre 75 to chase for England to go one-nil up.
Richie...in a fawn number
The teams moved on to Perth. Fresh from the Americas Cup, Western Australia was buzzing at the time. The pace of the WACA wicket seemed to be to the liking of Chris Broad as he rattled off a 162. Gower also got a ton, as did the new keeper Jack Richards. A ton from Allan Border was the response and despite England setting the Aussies a target, the game ran out of time, in the days when Test matches ran out of time and weren't played at a fast and frantic rate.
The next Test at Adelaide was played on a pitch flatter than the Aussie piss water Castlemaine XXXX and with about as much venom for the bowlers. The Aussies got 500 plus thanks to a slimline David Boon hundred, with England responding in kind thanks to the Aussies feeding Chris Broad on leg stump. It amazed me during this tour how often they would bowl to Broad in this area where he was so strong, with us giving Border practice on how to cut. It also amazed to see the waistlines on either side - Boon was just slightly overweight, Merv Hughes just chunky. Gatting was slightly rotund, as was Botham, Edmonds with even Border showing a slight gut. The Aussie skipper got a hundred in the second knock before the game ran out of time.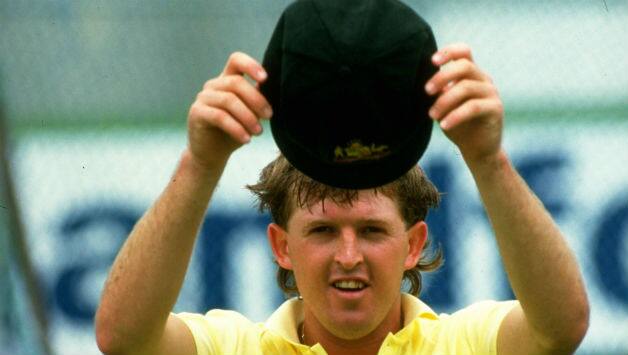 Zoehrer...keeping got poorer
Boxing Day at the G, and a huge crowd was in to watch the Aussies get bowled out for a meagre 141. Botham and the loveable Gladstone Small took five wickets each before Broad helped himself to a third hundred in three Tests. A slightly better 194 in the second innings meant that the Ashes had been retained by England as they romped home by an innings with an unassailable 2-0 series lead.
Finally in Sydney, in a game played in mid January, no doubt to get over the partying hosted by Elton John, the Aussies gained revenge in a fantastic Test match. It started with "Peter Who?" as the Taylor the Aussie press had thought was picked was the young opener Mark, not his colleague Peter. One banner read "The Aussie selectors couldn't pick Bill Lawry's nose".
The Aussies rattled up an impressive 343 underpinned by a 184 from Dean Jones. In return England scored 275, Gower with a gorgeous 72 and Peter Who? with 6-78. When the Aussies batted again a 72 from Steve Waugh, averaging just 25 at this point after twelve Tests saw them to 251, with Emburey grabbing seven on a pitch that was spinning sideways. Despite a great effort from England including a 96 from skipper Gatt along with a host of dropped chances by the poor keeping of the mulleted Zoehrer, England succumbed to the leg spin of Peter Sleep and lost by 55 runs.
There was some decent mullet action on both sides
The Ashes had been retained and so concluded my favourite ever Test series in Australia. The One Day Series will hopefully be shown where we all learned to lip read Bruce Reid's famous, "He was in my fucking way" as Lamb squeaked some overthrows taking 22 off the last over.
Happy days...