Being a dedicated clubbie comes with its fair share of sacrifices. It starts at around 15 or 16 and ends when you die. Don't be sad – this is the life that we choose to lead, but it does come with a degree of detachment from the real world...
Club Cricket...

At 15 or 16 most boys suddenly discover the opposite sex. It dawns on the average 16-year-old that his penis isn't just for urinating with and he will spend his summer holidays at the local swimming pool trying (often unsuccessfully) to attract the girls from his class at school. For the junior clubbie, however, his Saturday afternoon in the summer is instead spent chasing a small piece of red leather around dusty cricket grounds, getting abuse from the opposition and sometimes his own team mates. No Saturday nights out for this youth at the cinema, as his is spent in the company of
a 40-year-old divorcee moaning about the third lbw decision given against him in the last three weeks.
In your late teens and early 20s, the obsessed clubbie will find his career prospects have gone down the pan. Netting three times a week at university will take its toll on anyone and the realisation that you have gained only a third-class degree because you've used all your time playing, practicing and pissing it up with like-minded clubbies will only strike home as you are about to complete your studies. The fact that examination time is slap bang in the middle of the university cricket season is the bane of many an obsessed cricketer as he tries desperately to cram in the work that he should have been doing while at winter nets.
A mundane summer job is then taken so you can spend your winter in Australia only to get abused by clubbies down there for being a Pom, wafting outside of off stump or a host of other reasons as your technique is dissected like a laboratory rat. The crap money that this job pays you is invested in bats and into your cricket club bar should you decide that a winter being abused by Antipodeans isn't really your thing. While your university friends are getting their careers started on graduate schemes in the City, you find the biggest decision that you have to make is between Gray-Nicolls and Gunn & Moore. This is despite the fact that you bat at seven or eight.
In your later 20s, the obsession continues, despite fewer trips Down Under. Not being able to attend stag dos or having to say no to even family weddings because you have a top-of-the-table clash can lead to isolation from relatives and friends and it is not unknown for a clubbie to be written out of a rich relative's will. It is at this point that you are completely detached from the outside world. The refugee crisis of Syria means nothing to you as the only paperwork that you read will be the 2nd XI scorebook in the hope that the talented youngster down there doesn't nick your place in the 1sts.
The birth of clubbie children brings some slight relief and despite friends and relatives telling you that this is the most wonderful moment of your life, you find it comes a close second to grinding out a hundred on a damp wicket against a good bowling attack. You find yourself resenting the crying of your children when you need your sleep to prepare for a big game the following day. This is why the standard preparation for most clubbies involves nine or ten pints on a Friday night.
In your later 30s, your Mrs, who at this point is tired of cancelling engagements with friends due to your cricketing obsessive nature and divorces you, leading you to throw even more of your life into your cricket club. It is at this age that you realise that your cricket club will always love you, it will never have a headache, actually enjoys you staying in the bar until midnight and will never nag you. At this stage in life you'll find that your best mates tend to be around 20.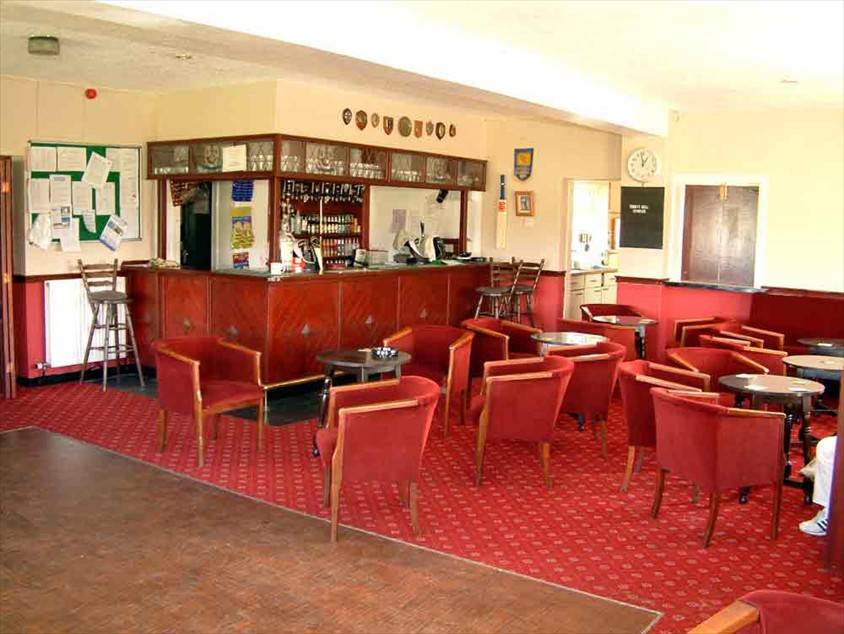 The Club Bar...
At work the clubbie is constantly thinking about his Saturday afternoon. Time spent on the station platform waiting for trains sees clubbies the world over perfecting 'air' forward defensives and prime selling time is spent on rival clubs' websites checking out the scores and recent results of upcoming opposition. You will know the opposition intimately due to the player profiles on their website yet should they pass you on the street, you wouldn't recognise them. However, you can quote their season's best verbatim and will have an intimate understanding of their strengths and weaknesses. You will even have worked out who they still have to play that season and spend vast amounts of time predicting their results against yours and where you will finish in the table. It is not unknown for clubbies to receive their P45 from their employer in this instance.
In his 40s the clubbie dreams and hopes of that one last day in the sun, that thought of a trial at county 2nd XI standard becomes a mere pipe dream. One more hundred, one last five-fer, one more diving catch is ever present in the mind of any self-respecting clubbie. In reality you spend every Saturday afternoon doing fine leg to fine leg as your fielding has gone. Despite this, your life is uplifted when your son finally reaches double figures in a colts game and the joy of him taking a wicket outweighs the petrol money spent ferrying him and his mates around various clubs in the locality. A wipe across the line for a midwicket four is worth sitting on a park bench on a freezing May night when the street lamps start to appear. You begin to live your cricket vicariously through your kid.
In your 50s the average clubbie turns to umpiring. Again, this brings with it a wealth of abuse from someone who is young enough to be your grandson. Despite the fact that you were in Baghdad when they were in their dad's bag, turning down an lbw from their quick bowler brings forth a stream of invective. It is at this age that most clubbies have at least two drink driving convictions under their belt.
Good club man...
In your 60s, the sheer volume of committee tasks weighs you down. You find that no one else is doing them around the club so you end up taking on far more than a recently retired person really should, all in the name of love for your cricket club. While your friends are spending their pensions on Saga holidays to Madeira, your summers are spent collecting glasses that have been left by junior members of the side in the outfield.
Your 70s are still filled with watching your club play, but you find that you don't recognise any of the players due to a mixture of Alzheimer's and the fact that nobody under 40 wants to speak to the cantankerous old sod in the pavilion. You sit with other like-minded ex-clubbies who you played with, supping half a bitter and moaning that things were far better in your day. You'll find as a clubbie that the longer that you have been retired, the better a player you were.
Finally you reach death. Your funeral fittingly will be held at a church near to your cricket club and the wake will be in your club bar. Like a sub-standard tea, a few curled-up sandwiches will be the only food on offer for the mourners. It will be attended en masse by a wealth of other clubbies from not only your club but rival clubs too. It turns out to be one of the best piss-ups of the season. Despite the fact that you have spent your whole life dishing out abuse and moaning about the players at your club, everyone says what a great bloke you were.
Three years after death all that is left are memories and your name on a plaque of a rotting bench that leans from side to side and has woodworm. This will be replaced when the next clubbie passes away.
This is the life of a clubbie.
The above is an an extract from The Definitive Guide to Club Cricket.