There have been a lot of posts on social media recently about aspects of cricket at this time of year. Whether that involves videos of people facing their first ball of the season or if it is just my personal thoughts killing time in this empty void of isolation that we find ourselves in, the thoughts of all of us club cricketers are thinking what would we be doing now if it wasn't for this bastard pandemic? But there is one thing that I miss the most about it all and that is the banter. The 'dressing room crap' as you call it, whether that be with the opposition or with your own team mates...
I'd like to think I know what I'm talking about (ish) when it comes to club cricket. Having played for thirty years, captained, been a fixture secretary, had a plethora of thankless committee tasks in my lifetime and written two books on the subject, I'm now Chairman of my club. I even umpire now, not for the forty quid that ends up behind the bar on a Saturday night. It's not even for a free tea! If a game starts at 1pm, then umpiring duties start around 12pm and normally finish at 8pm, unless I start gunning down more batsmen than Clint Eastwood in Dirty Harry. At a fiver an hour, this would have most cricket clubs desperately checking whether they have an anti-slavery policy going on. No umpire I know does it for money. We're not prostitutes you know? I do it because I love the game and it is my way of staying involved after retiring from playing.
The thing I miss most this time of the season isn't the rush to the sports shop as you realise that the winters excesses have taken their toll on your waistline and you've a) either split your whites trying them on or b) they're covered in mold as you left them in your kit bag with a wet towel last September and then stuck it in the loft. It's not standing around in the freezing April cold watching your club mates play and miss, blocking it desperately before realising that the wicket doesn't come on as much as the plastic coated surfaces of the indoor nets before tamely chipping one to mid off. It's not about the wides or the dropped catches due to cold hands.
For me, I miss the camaraderie of club cricket.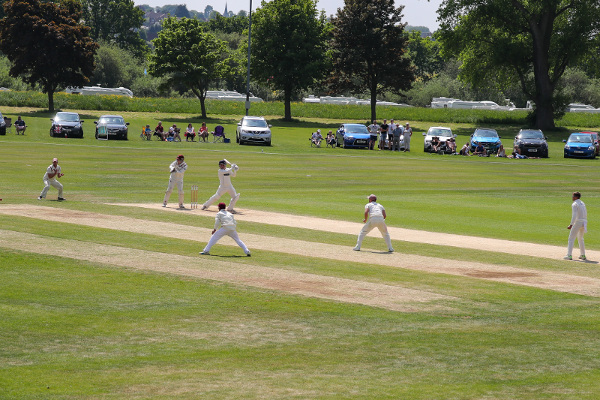 We're all missing club cricket
For many on social media say that the post match beers have gone out of the game, or that behaviour has got worse in recent seasons. The post match beers between sides was a dying art with a load of twenty year olds having a quick soft drink before getting in their cars home. It doesn't have to be like this. A few years ago I wrote that every team this weekend should buy the opposition a jug and see what happens. That day, we played a great game against Flitwick, where they chased down 259 off the last ball to win by one wicket. When we retired to the bar, a jug was waiting from them to us. We responded in kind in the return fixture and relations between the two clubs have been excellent ever since.
Since then, we have made an effort to buy visiting teams a jug and it has improved relations on and off the pitch with a number of clubs in the Hertfordshire League. I think the move to playing each side home and away has helped in this regard as clubs get to know each other better too. Sides are less likely to behave badly if relations between them are decent but you can also find out decent bits of information that can aid your season, such as the lowdown on the following weeks opponents, who this weeks opposition have already played.
You will generally find that cricket people are good blokes. I'm not saying that all of them are and I've played with and against, more than my fair share of arseholes. In the main though, they are generally decent people. By talking to people off the pitch you tend to find that their on-pitch persona is often very different to the unassuming individual that you are having a pint with. The rabid fast bowler who appraises ones batting technique having played and missed to him four times in an over isn't often the nasty bloke that you see on the pitch but a nice guy.
Cricket is always about having a chat with the opposition after the game. It isn't like football where each side traipses off to their own pub. Or Saturday football even, where sides eat together after the game, often eyeballing each other and rarely having any interaction. Cricket is always about having a chat for at least one drink with your opponents. Back in the eighties when I started, sides would buy each other two jugs - one lager, one bitter and us 14 year olds would always mine-sweep the remnants to cut costs on our Saturday night social activities.
No other sport is like cricket. No other sport has you hanging around with your team mates for ages, should you be in poor batting form. No other sport breaks for food where you and the opposition eat together. It is a bizarre concept but one that we have all grown up with.
So when or if the season starts, buy your opposition a jug. Generally a four pint jug will cost £12 in your club bar - (cue response from Yorkshire followers who wouldn't pay £3 a pint in a pub). That works out at just over a quid per man in your side. You'll get a lot more out of it than you would for that quid anywhere else, trust me.
There are many aspects of the game that I'm currently missing right now. Whether we play in 2020, who knows? One thing I know, is that I'm definitely missing though is the camaraderie that goes with club cricket.