The County Championship season was due to start this weekend. With the Covid-19 virus sweeping the world, there is no cricket in the UK until at least ‪May 28th 2020‬. Here we catch up with Middlesex batsman and wicket keeper John Simpson to see how he and the rest of the Middlesex lads are coping with their pre-season, their fitness, their drills and their wellbeing during the pandemic that is sweeping the globe...
John Simpson

TMS: John, how was your off season?
JS: Really good. I was in Australia playing cricket for South Caulfield from mid December until 1st March. It was the club I played for when I was 18 so they're close to my heart and it was quite a sentimental trip going back there after all of these years.
We then went to Oman with the Middlesex lads. The bowlers flew out first on March 7th, but I was in Spain visiting my parents who live there. I then flew out with the rest of the squad on the 10th, but unfortunately we all came home a week later due to the outbreak of Coronavirus. It was a shame because the facilities there were excellent - we had the use of the ground, very good nets and an indoor centre. It was nice to have some outdoor training in March and escape the miserable weather at home!
It was bizarre though because obviously all the boys were reading about the pandemic sweeping the world and we were out in Muscat where it was deserted. I went for a wander one day with Robbo (Sam Robson), we had a spot of lunch on the sea front and went to a market where they were selling shisha, rugs, lanterns, spices and it was busy but it was a strange concept of being somewhere whilst the rest of the world was closing down.
We managed to get a couple rounds of golf in. We played Texas Scramble and Murts (Tim Murtagh) managed to acquire a new set of clubs for about £110, which is remarkable value. He gave his old set to Thilan Wallallawita who had never swung a club before. He wasn't bad but still came last. I think Robbie White won.
TMS: Are you missing the banter?
JS: Everyone is training but we have gone from being with each other ‪24/7‬ to now being isolated so it feels strange having been on tour in each others pockets with various stories flying about. We have been having Friday night socials with all the staff via zoom which Gus (Angus Fraser) has been in charge of and then delegated to another individual each week. I would say it's been seamless but to be honest it's been a shambles! It's Nick Gubbins turn this Friday so anything could happen. I'm not sure what I have up my sleeve but I can't do any worse.
Gus...technologically struggling
TMS: You were due to start against Worcestershire on Sunday. How would you normally prepare this time of year?
JS: I've just checked the weather and it is due to rain on Sunday which is typical. We often have a really nice March then starts raining once the season starts.
We have a marquee up at Merchant Taylor's School so normally we are doing fielding drills, fitness and having competitive games to get us match sharp. Normally a few days beforehand we then move to Lord's having spent the winter and spring at Finchley or Radlett. It sounds strange, but we want to familiarise ourselves with being back at our home ground again at Lord's so we spend four or five days there before the start back on home soil.
TMS: How are the guys keeping fit during isolation?
JS: We have a programme to follow from our Strength and Conditioning Coach which all of the boys have to adhere to. We have to run a minimum of 15 kilometres a week. It is up to the individual how they want to do that whether it is three sets of five k's, MAS or however they want to do it.
James Harris is a keen cyclist and I've been out and bought a bike too. In fact I've just been to Halfords this morning to get a new pedal after breaking mine! It's a good time to be cycling in London due to the lack of cars on the roads.
On Tuesdays and Thursdays we log into a Zoom conference meeting, where we work online with one of the Strength and Conditioning coaches. We all have weights, kettlebells, bands etc which Middlesex have given us while we can't use the gym to stay in peak condition before we hopefully get out on the ground at some stage.
We do some Yoga and Pilates work too online. Tom Helm's girlfriend is a Pilates instructor and puts us through our paces although I know it's not Murts (Tim Murtagh) favourite part of the day!
Murts...not a yoga fan
Nic Pothas does work with us online regarding throwing techniques and shoulder work to aid this with bands, whilst we also do some stuff with tennis balls to aid the hand/eye co-ordination. I'm lucky I have a garden with some outdoor space to work with.
TMS: Any keeping specific stuff you're doing?
JS: It's hard but I use a tennis ball against the wall for 15 or 20 minutes a day before I get bored. I work on some two hand catching and then some one hand catching to make it slightly more difficult. I have tried to use a chair to make me unsighted to try and replicate a ball down the leg side, where you go 'blind' as the batsman covers your sight of the ball. It helps but it's not an ideal scenario.
TMS: I think many of us are bored at home at present. How do the boys and you cope with being at home?
JS: I've found it tough. The family are in Spain where they are in lockdown ‪until 26th April‬ which is eight weeks isolation if it ends then. They've got drones out there and are fining people if they go too far from home. The fines range from hundreds to thousands of euros. They've had it far tougher.
It's been tough for everyone but the guys with family around are probably in a better position than those on their own. The challenge is to keep occupied. I've never done so much DIY in my life. I've stained my decking, cleaned my barbecue, done gardening with the weeding and even the odd Middlesex quiz online! Luckily I'm studying for a Sports and Business degree at the University of Hertfordshire so that keeps me busy. I interviewed Barry Hearn last week so I need to write that up.
I've also been turning my hand to cooking which I find very therapeutic. My signature dish is chicken and broccoli risotto, although you can't beat a good steak either. I've been getting into Netflix too with getting into Ozark. That was after speeding my way through Power and The Blacklist.
As for the boys, they play online games against each other. Steven Finn, Tom Helm and Tom Lace are the better ones so I believe at things such as FIFA, Call of Duty. I don't play anymore as I get frustrated at them and have been known to break a control or two!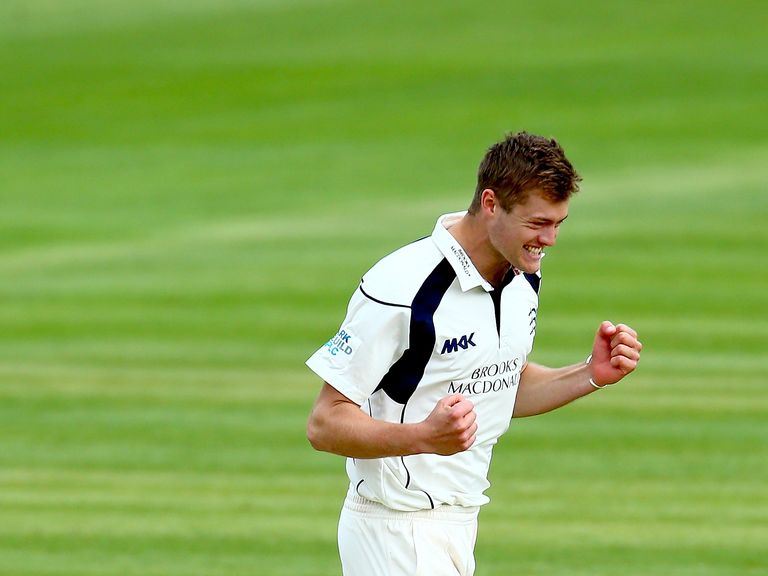 Helm...after winning a game of FIFA
TMS: Middlesex have had a campaign recently where the players have been urging the public to stay at home. How important is this?
JS: Hugely important. We've been running the campaign to protect the NHS staff. These people are on the frontline putting their lives on the line for people and I don't think a lot of people realise how serious this is. If Boris Johnson and his fiancee who is pregnant can get it, no one is invincible. It annoys me to see people outdoors not taking it seriously and it is a pretty poor indictment of a minority of society when NHS staff are doing such a fantastic job and long may that continue.
TMS: Finally, when will you get back to playing?
JS: No one knows. I don't know if we will play cricket at all at this point in time. It is an unprecedented situation and we just have to take things one step at a time. I'm due to be playing in the Hundred later in the year and don't know if that will take place. Hopefully we can get out at some stage mid summer and get back to some normality.