Recently we have run articles on the site, working out what it costs to run a cricket club and revenue coming into the club. One of the main sources of any club's revenue is from the players. Over the weekend I have run a survey on how much it costs an individual to play club cricket. Obviously this doesn't include the post match drinks where I reckon I have probably spent at least £2,000 a season for the last twenty five years (drinks were cheaper before then!). What I could do with 50k now! I digress... This is a survey based on annual subscriptions and match fees and how much clubs are charging in the UK. It threw up some interesting results.
Village cricket

The first thing to look at is that there is a difference between an annual subscription and a match fee. Except that some clubs roll them all in together. Most clubs though, will have two separate payments schemes. All of the below are for a senior adult playing member of a club.
Let's look at annual subs first. These were in four categories as Twitter only allows that. We received a total of 1,025 votes from club cricketers in the UK. The voting was as follows;
Under £50 - 23%
£50-£80 - 28%
£80-£120 - 25%
£120+ - 23%
Yes, I know this adds up to 99% but we weren't given the decimal points. Having received numerous messages directly, there was a huge difference between the clubs based around London and the South East are paying and those in other parts of the country. Interestingly, those playing south of the river seem to be paying more than their counterparts in North London, with the Surrey clubs topping the national charts. One notable exception to the geographical split in the country was a number of clubs in the West Midlands who tended to charge around the £120 mark upwards. Many clubs in the north tended to still offer an annual subscription at under £50 citing that their bar covers the cost of cricket. The clubs based in the north seem to have busier social sides than the south with many clubs being open during the week or even winter to cover the cost of the sport.
Variances were also applicable to those clubs who played on private grounds to those who played on pitches that they hired from the local council. Clubs on village greens or who paid to the Parish Council often had cheaper rents and clubs who had three teams with the third team playing at an external venue, such as a school often charged more. Third teams are often full of younger players starting their club career. No doubt this is due to offering juniors adult cricket, whilst having to pay for an extra cost, where the correlation between junior match fees and the cost of hire doesn't equate. It is a price to pay for clubs investing in their future.
Clubs that tended to play at better standards tended to charge more but I'll come on to that in Match Fees. Sides based as part of a works team or a sport and social club, offered excellent value as an annual sub, with many being subsidised by their employer's sports committee.
The highest figure we received was one club charging £220, which is starting to move towards golf club territory. The lowest was a tenner. Some clubs don't even charge a weekly fee preferring to charge approximately in the region of £20 a month instead as a flat rate over twelve months. It encourages more people to play and many clubs offed incentive schemes to try and get their players to play more.
Then we came on to Match Fees. The survey is still going but it is as follows after 600 odd votes.
£5 or less - 14%
£5-£9 - 25%
£9 - £12 - 53%
£12+ - 8%
The mean seems to be at £10. This is because of a flat, round figure with many clubs citing that they can't be arsed to collect coins on top - true story too! Here we see a number of clubs who play at a higher level charging more. These clubs often have two sides in the top divisions of their county leagues where they pay for a panel umpire and have to provide a scorer or get docked points. With an umpire charging £40 for an afternoon's 'work', tea being £45, a scorer's fee and buying a jug, many clubs at this level are having to charge £15. Clubs at senior levels tend to pay players and whilst this is often covered by a benefactor, this can be worked into the match fee equation. The southern clubs have only tended to offer payment to players in the last twenty years but in the north of the country or South Wales, it has been going on for a lot longer.
Reduced fees on Sundays keeps cricketers out of the church
There was a huge difference in Saturday and Sunday fees. Sunday cricket in the London area and the South East has struggled notably in the last fifteen years or so. Many sides are offering a hugely reduced rate to encourage players to play cricket, instead of going to church. Some sides are even offering free Sunday cricket, or just to cover the cost of tea at £2.50 a player. In the north, Sunday cricket is still going strong with league cricket still being played on Saturday and Sunday in some parts of the country. The other thing to factor for Sunday cricket is the price of the ball. On a Saturday generally two balls are used with one being used on a Sunday in friendly cricket, despite one strange individual insisting that his club uses a new ball every three games. The quality of ball being used for league cricket, or perhaps the price for the cynical amongst us, is often more than the cheaper Sunday ball.
Many sides tend to offer half price cricket on Sunday compared to a Saturday fixture. A figure of £10 on a Saturday with £5 on a Sunday tends to be the national average, with £11 or £12 being more common amongst London clubs.
The thing that struck me is the remarkable value that cricket clubs offer. Going to the cinema now is more expensive generally than playing a game of cricket and you don't get charged £4 for a bag of Maltesers or box of popcorn to watch your mates bat. Even at £15, six hours worth of prime entertainment, banter and a meal thrown in offers good value. Lower level football charges £20 to sit and watch a non league game for two hours. Cricket clubs are not for profit organisations and are charging to cover their costs. Not many, if any, are out to make a profit.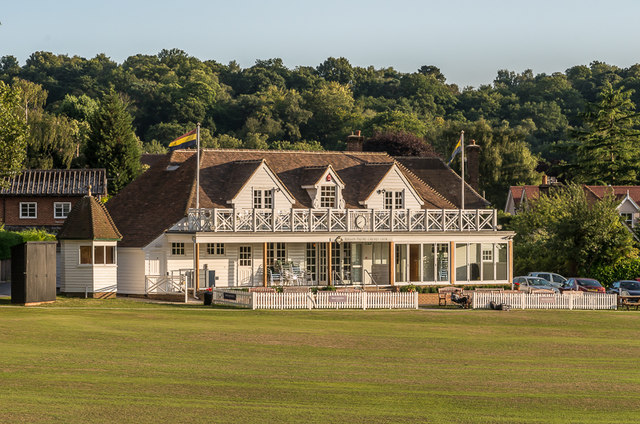 The other thing the survey threw up is that it is index linked to property. A game of cricket takes up a lot of land and the price of real estate in the South East of England tends to be higher than most other parts of the country. As such wages tend to be higher, so clubs cover the cost of cricket via subscriptions and match fees. Many clubs cited that raising match fees was often more beneficial to revenue streams than raising an annual subscription.
On a final note, let's pray that we are not expats playing our cricket abroad. One response was from a chap who had played in the States where it was $500 a season for twenty games. However that offers excellent value compared to another gentleman who paid the equivalent of £1500 a season in Dubai. And that was just for T20 or T25 cricket.
For me, it isn't about the money. It is about the lifetime friendships and the memories. And that, is priceless.