Roy Stride is a man who loves the game of cricket. The lead singer of Scouting for Girls watches, plays and even scores whilst watching re-runs of the 2005 Ashes series. With a string of top ten hits under his belt, we caught up with the musician and discussed his love for the game. Read on here to find out which county he is a member of, what it is like for the band to face Jimmy Anderson's bouncers and having one too many beers in the Long Room at Lord's...
TMS: Roy, you have had number one singles, number one albums, worldwide hits, played Glastonbury and virtually every festival going. Surely being interviewed by The Middle Stump is a career highlight?
RS: Totally. I've been waiting for this moment all of my life. I can retire now.
TMS: And I hear that you are a big cricket fan?
RS: I'm hugely into it. I love a day at the cricket. The rest of the band love a beer and aren't as much into it as me but will happily spend a day in the sun having a few beers.
TMS: Do you like county cricket?
RS: Yes, I'm a member at Middlesex.
Tuffers...one of Roy's all time favourites
TMS: Favourite Middlesex player?
RS: If we are talking all time then it has to be Tuffers. I love that guy. There have been so many good players such as Brearley, Gatting but for me, it is Tuffers. Of the current crop, I like Eoin Morgan, Simmo (John Simpson) is a great bloke and a great servant to the county, Murtagh is a great bowler and Toby Roland-Jones is too. They have a good team and I hope they can put some results together this year if we get any cricket played. Stuart Law was a top player and is a top coach so I am hoping they do better. I know a number of people who work for the club in various roles and being a member, they really make you feel part of the club. Everyone is striving for the same thing. Last year they invested in AB De Villiers and Morgan for T20, so the investment and the strategy is there. I hope it all clicks into place and they win something again soon.
TMS: I'm hearing a scurrilous rumour that you've been spotted once or twice in various bars at Lord's?
RS: Haha. Yes it's true. There was a notable episode where I went with my manager who is a big cricket fan too, to a Christmas meal in the Long Room at Lord's. The band all went and there were a few beers going down, then the meal, it was a long day if you get my drift? We ended up in the Tavern next door to Lord's and there was a before and after photo with Steve Finn and Toby Roland-Jones. They look exactly the same, whereas I looked like the drunkest man ever.
TMS: You sponsor a village side too?
RS: Yes we sponsor our manager's side, which is Linton in Cambridgeshire. It gets him on the teamsheet. The place has an Alan Partridge connection. (Partridge lived there at the Travel Tavern in 1997). I also play for my local village side when I can but it is hard during the summer due to the amount of festivals that we play.
TMS: Batsman or bowler?
RS: Bowler.
TMS: Favourite series?
RS: I've been watching re-runs of it recently. The 2005 Ashes and I've even been doing the scoring to it. Ball by ball from my armchair. Apart from Lord's, it was so special. As an England fan in the Nineties, the Aussies had beaten us for so many years, so it was a very special moment to beat them. We were a good side too though.
TMS: And you've appeared on Test Match Special?
RS: Yes, I've become quite good mates with Aggers and pop into see him when there is a Test at Lord's. She's So Lovely is Mrs Agnew's favourite song and we played it for her as a surprise at her birthday party. We've been on twice.
Jimmy...bouncer
TMS: You faced Jimmy Anderson in the nets. What was that like? Was he bowling at full pace?
RS: God, no. It was still quick though - I didn't really see the ball. We had played at the PCA dinner so they gave us a net with Jimmy and Tim Bresnan. Greg from the band was batting and he is the most unsporting bloke you will meet, with awful vision too. Jimmy said, "Can I bounce him?" I said "yeah go on, it will be a laugh". Greg didn't even see it as it went over his head.
TMS: If Indie bands of the 2000's were cricketers, I reckon The Libertines would be Tuffers. Who would Scouting for Girls be?
RS: Haha. Great question. I'd like to think of us as Tuffers. Maybe Botham but not that talented. Who is popular, reasonably talented who like a beer at times? Flintoff, although he was very talented too. Yes, Flintoff - I'll take Flintoff. My son is named Freddie after Flintoff.
TMS: Favourite game ever?
RS: England v India. A One Day International in Bengaluru in India. We were supposed to go and couldn't make it due to our schedule so I watched it on television. We were supposed to fly in and fly out straight after the game but had to pull out. It was a classic and a tied game. India got 338 which seemed a massive total back then and we got 338-8. A great game. Actually, obviously only after last year's World Cup final!
TMS: Any other musicians like their cricket?
RS: Yes. Tom Chaplin, the lead singer of Keane loves it. Harry Judd of McFly is a really good player. If he hadn't got into music, I reckon he could have made it as a professional cricketer. I've been invited to a few charity games with him and he can play. I've even had coaching recently, so as not to embarrass myself when playing these.
TMS: Have you heard of the charity Melanoma UK and the work that they do?
RS: Yes I have, they're great. My Father in Law has had skin cancer and a number of operations. He is a Brit living in LA, so the work they are doing with cricketers who are exposed more than most is brilliant. Amazing charity.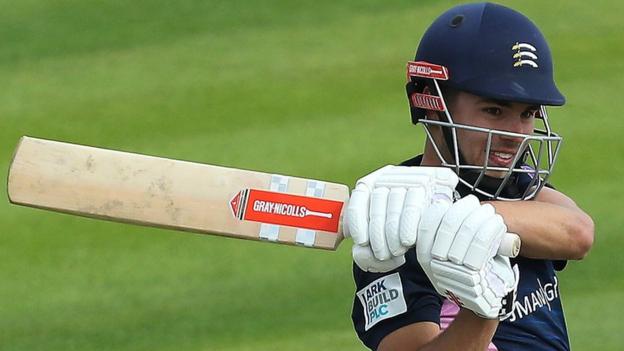 Holden... England potential
TMS: Best young cricketers coming through?
RS: I'm a massive fan of Max Holden at Middlesex. This England team look pretty strong with some good young batsmen but he is an exciting talent who I can potentially see playing for England in a few years. Sibley and Crawley look good players whilst I really like Burns. He is an impressive individual who could well be captaincy material. What I really like about them is that they are great role models. I have a ten year old son who looks up to them and they handle themselves very well. I think cricket is a game that brings you back to earth quickly and there is a lot of graft to get to the top. They come across as good blokes who work hard. Ollie Pope looks another great player and I'm a big fan of his.
TMS: What are you guys up to now? I suppose the Coronavirus pandemic has put a block on things?
RS: Yes we had a tour lined up and we were due to play at 65 different festivals this summer. However, I'm still writing, recording and we have an EP out. It is the tenth anniversary of This Ain't a Love Song getting to number one. We have re-released our second album. I am sure we will play plenty of festivals in 2021 as well as getting to the odd game of cricket.
TMS: Roy, you've been a star and I'll buy you a pint at Lord's next time.
RS: Cheers Dan. I'll buy you one back too.