Cricket clubs are starting to lose patience. The chasm between those who play at a recreational level and the people running our sport is wider than that of the Montagues and Capulets; however this is down to the coronavirus as opposed to a Verona crisis. The communications from the governing body when it comes to the amateur game has left a lot to be desired. The silence has been deafening in comparison to other sports but there has been plenty when it comes to other aspects of the game that bring in funds. The clubbies are not happy...
The sands of time are running out for club cricket
Many clubs last week were not happy that it took the ECB over a week to allow groups of six to train together, since the announcement from the government, eight days previously that this would be possible from Monday 1st June. It wasn't until Friday 5th June that the announcement was made, much to the chagrin of club cricketers from John O'Groats to Lands End. With the summer wasting away, the chances of clubs playing before July are diminishing by the day. Many leagues across the UK need to start playing by July to allow a nine game season, which allows each club to play each other once. If this is not possible, the 2020 season looks like it will be scrapped.
Other sports have been way quicker. The RFU printed a 'Return to Rugby Roadmap' along with a 'Professional Game Board return to training' statement together. A classic example of the professional and amateur game in tandem. This was released on Monday 1st June, as soon as groups of more than two people were allowed to meet. The ECB have been quick off the mark when it comes to the professional game but news of the amateur game has come through about as quick as a Jeremy Snape slower ball.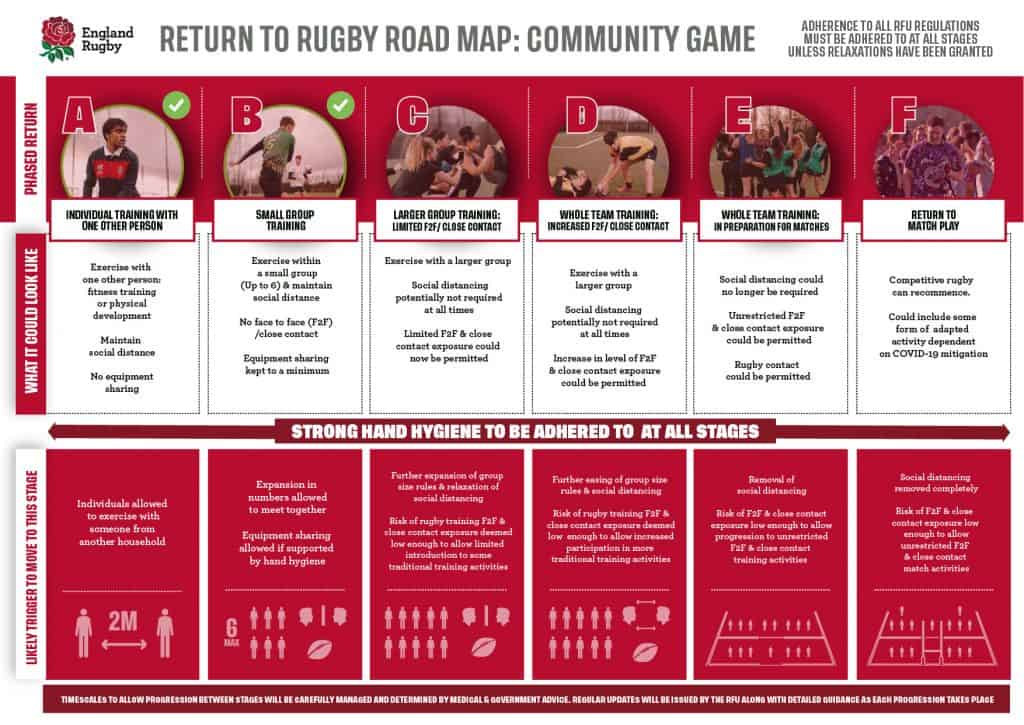 The RFU Return to Rugby Roadmap
I can see why the professional game has a priority. The broadcasting revenues and income are hugely important in a summer which looks to have more losses than our national team in the 90's. However, the bums that fill the seats, that buy the £5.80 pints are mainly from those who play the amateur game. The people who purchase Sky Cricket channel, will have a large percentage amongst those who don whites for their local club on a weekend. There is no reason why both statements cannot be released on the same day.
I can also understand that the ECB are led by the government. However with shops open now, I am sure that the likelihood of someone touching a metal door frame of the shop or a tin of beans, is just as likely to cause Covid-19 as touching a cricket ball. So why aren't the ECB lobbying the Department of Culture, Media and Sport to get the amateur game on?
You can imagine the conversation over Zoom...
"So is it worth putting pressure on them about the Amateur Game?"
"How much money is there to be made by doing so?"
"Erm, fuck all"
"Let's concentrate on the professional side, shall we?"
Hancock...
The government are making it up as we go along. The skipper Boris is hiding down at fine leg as things start to get tough, whilst the Rasputin like Dominic Cummings and Goings just does what he likes. Club cricketers might be stopped from playing their beloved game, whilst he swans off for his own away game to Durham. Hancock, the Lieutenant Gruber from Allo Allo, is about as much use as a glass Gray Nicolls. Our average, in cricketing terms, for death rates is the second worst in the world. The DCMS need to liaise with the ECB and give them some clear guidance and the ECB need to communicate this quickly back to cricket clubs.
What club cricket wants is a timeline, so we know when we can return. If the professionals can be allowed to resume, then surely the amateur game can too? If football and rugby, contact sports I may add, can return then surely cricket can start too? If demonstrations are allowed, if shops are open, if pubs are starting to open, then cricket must be allowed to start at club level, surely? As of July 4th you can get a hair cut but you still can't square cut.
Cummings...allowed to play an away game in Durham
In the meantime, the sands of time of the summer of 2020 are ebbing away and cricket clubs, shorn of their vital revenues of annual subscriptions and match fees, will go bust. Clubs are still employing groundsmen in the hope that we can start in July. Many would like to know if this is a waste of money or if it is a worthwhile exercise. Club cricket is in limbo, the seamer bowling a good length outside the off stump and the batsman leaving the ball. No runs, no wickets, not much happening. We don't want media releases on how clubs can improve their digital platform, we don't care if Jimmy has been for a net or who my virtual or fantasy XI would be - we just want to get our whites on. Even if the ECB can't tell us, we would like a potential time frame that we can work towards.
The Waiting Game goes on...