"Rally around the West Indies", so the West Indian song goes. The West Indies just by being here rallied around the game of cricket. This was the first game in Covid conditions and despite not being cricket as we know it, it was bloody beautiful. This was an intriguing game of cricket, going down to the final session with both sides in with a chance on the fifth day. Ultimately, it was England, like the Titanic who were sunk after spending time in Southampton. This was a review of the First Test...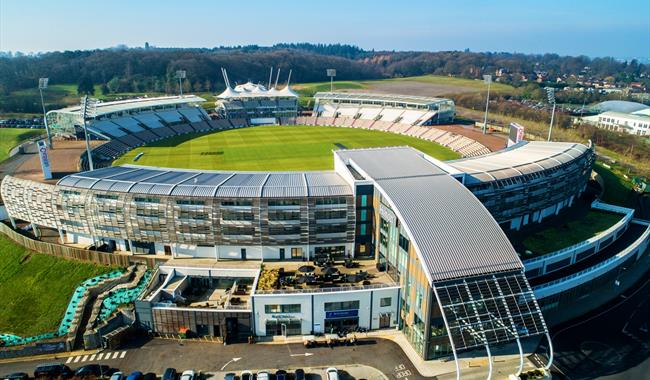 The Ageas Bowl...

We started with rain on the first day. We all wanted the wet weather to make as brief an appearance in Southampton as Ali Dia, the player famously signed by Graeme Souness. Unfortunately, this one was more of a Matt Le Tissier. I'm sure you could have offered it a five year deal at Manchester United and it still wouldn't have budged from the Solent region. Still, it stayed away for long enough for some interesting decisions at the toss.
Many people would have bowled. With rain and overhead conditions making the ball bend around enough to fox Sibley early on, I was certainly surprised. Even more surprising given the conditions, was that we left out Stuart Broad. I understand that we are building towards the Ashes and we want to play Wood and Archer together, but a Test is still a Test and this West Indian side are a good outfit. Funnily enough, it was a six and a half foot tall bowler who pitches the ball up who did the damage for the away side.
After the tour to South Africa, I thought that England had changed their batting ethos. Time at the crease and wear the opposition down was the mantra. This was back to getting in and getting out quickly, a bit like Kevin Keegan at Southampton, although I'm not sure that any of these players got a baseball bat through their car windscreen when parking in a lay by. If they had, the way Holder was bowling, they'd have played and missed. England were all out for a meagre 204, Holder averaging 10 with the ball in the last two years with six wickets, Shannon Gabriel roughing us up with four. Dowrich kept beautifully with soft hands. Holder is a hugely impressive individual on and off the pitch. He speaks well, he leads by example and the West Indies have a real star on their hands. Leading a group of players from so many islands and political backgrounds is never easy and Holder deserves all the plaudits.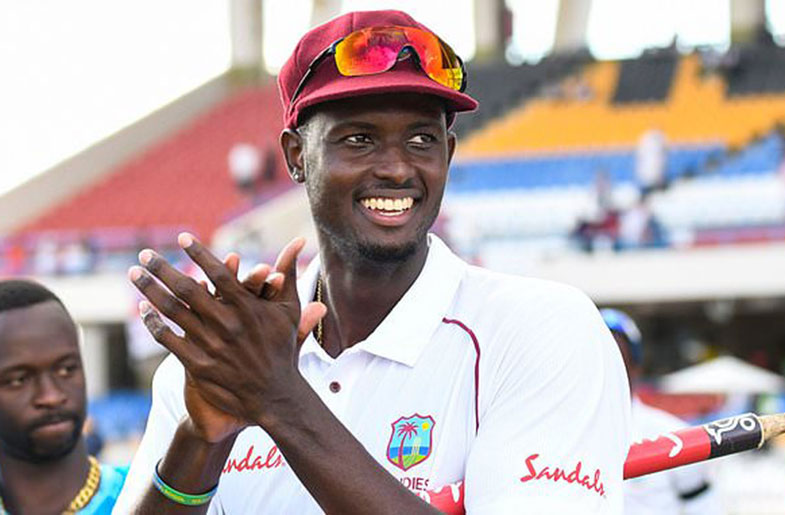 Holder...a leader
What was strange was the lack of crowd action. Normally there is a polite ripple of applause when the score reaches a hundred. Here there was nothing. It was like watching a game in front of a particular partisan Afrikaans crowd in somewhere like Bloemfontein, where applauding the opposition is a show of weakness from the hosts.
When the Windies batted it was a dogged performance by Kraigg Brathwaite that held the reply together. Despite the inability of his parents being able to spell Craig or Braithwaite, it was a lesson of watchfulness and I thought he was going to stay there for a big one. Like another Craig from Southampton, Mr David sang, "went into bat on Friday, carried on until Saturday, we were back in the field on Sunday". With Shamarh Brooks, no relation of Jack, unfurling some beautiful cover drives and Dowrich adding 61, a lead of over a hundred put the West Indies in the box seat.
England needed to bat well. A solid start by Burns and Sibley saw them put on 70 odd for the opening stand. Zak Crawley came in and played very well, upping the tempo when necessary. England looked as though they might save or even win the game until the divine intervention of the Angel Gabriel on the Saturday night meant that the West Indies only had to chase 200 on the Sabbath. Shannon picked up a deserved fivefer.
Enter Jofra. Brathwaite was bowled, Brooks was lbw, Campbell was off the pitch having taking one on the foot and when Wood bowled Shai Hope, England had a ray of hope. If we could have got through Chase and Blackwood (sounds like a firm of solicitors, doesn't it?) it could have been a famous win but when defending 200, you have to take your chances. England fluffed three in ten minutes. The dropped catch by Buttler might be career defining. Blackwood got a comfortable 95, where maybe singles were too easy to come by and Campbell returned only to be clanged on the lid by Wood. Despite the odd desperate review that was so far missing leg that I'm surprised Paul McCartney didn't ask it out on a date, it was fitting that the skipper Holder was there at the end to see the West Indies to a well deserved win by four wickets.
Kraigg David...
The West Indies were the better side over the match. They deserve huge credit for getting the game on and coming over here. The United Kingdom has one of the worst rates in the world of Covid-19 and the easy option would have been to stay at home. They didn't and they got the game on. This was a decent game and it was great to have it back on the television.
Expect a few changes for Manchester. Personally, I would go with Wood and Archer on a pitch more conducive to pace at Old Trafford. It wouldn't surprise me to see Broad return though, who should have played here if England are in rotation mode. Root will return and I expect to see Denly lose his spot. Four into three doesn't go and Denly at 34 is a more obvious choice than Burns, Sibley or Crawley. Buttler could well be looking at a spell on the sidelines in favour of Foakes, and whilst Bess bowled well, with the right handers dominating the opposition line up, could possibly his county colleague Leach be more of a threat bowling slow left arm?
The players move from Southampton to Manchester. Let's hope for England's sake that it is a more successful transfer than that of Morgan Schneiderlin.